Sightseeing around Seattle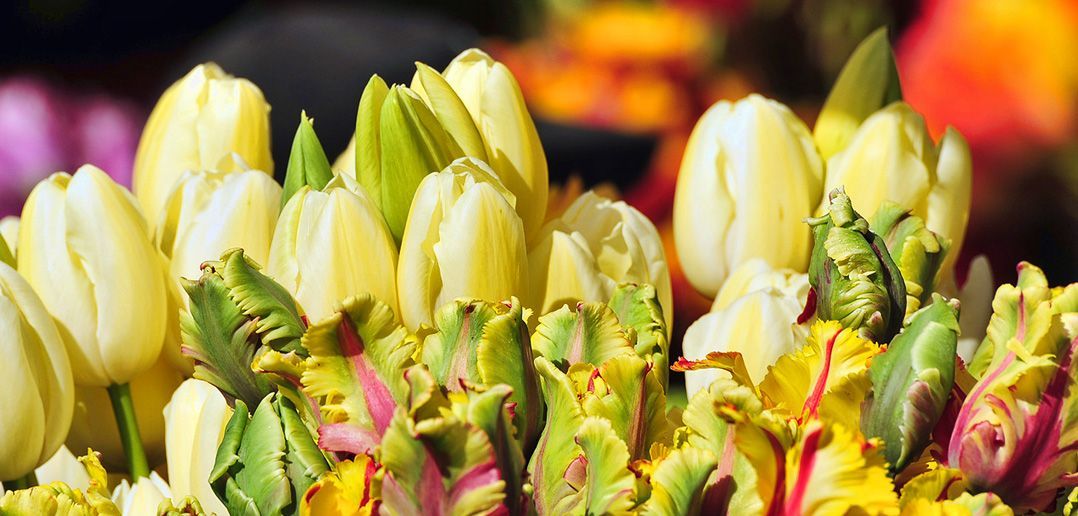 I've had several people ask me recently for some suggestions about where to go sightseeing in the Seattle area. After going through the options a few times, I thought I'd write them down here for future reference, and I've included a few favorite photos I've taken at each location mentioned. (You can also find all of my favorite Seattle photos on Flickr.)
These are not the "best" or "most popular" things to see around Seattle – this is just a list of the places I like to visit myself. I've lived over 30 years of my life in Seattle, so I have opinions, but I know other longtime Seattle residents whose list would not overlap with mine at all. For example, the photo above is flowers at Pike Place Market, a very popular tourist destination, but I rarely go there so I didn't include it in the list below.
Getting a View
First off, here are a few places to get a nice view of Seattle itself or the surrounding scenery.
The Space Needle is the definitive Seattle view. On a clear day you can see all of the Seattle area, Elliot Bay and Puget Sound, Mount Rainier, the Cascade Mountains to the east, the Olympic Mountains to the west, and countless landmarks all around.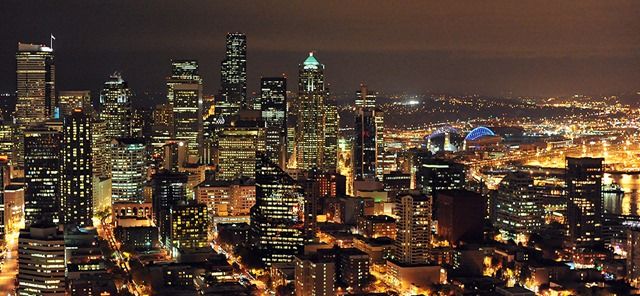 If you want a different/less expensive/more interesting view of downtown and the waterfront than what the Space Needle offers, check out the Smith Tower. It has an outdoor walkway around the observation deck with views of downtown (including a glimpse of the Space Needle) as well as Chinatown and Beacon Hill and the Duwamish/SoDo industrial areas. It's also a historically interesting building (was the tallest building in the US outside of New York when it was built, among other things). Here are a few views from the Smith Tower:



The tallest building in Seattle is Columbia Center, so it has a viewing area that looks down on the Space Needle and everything else in Seattle. Unlike the Space Needle and Smith Tower, you're inside behind glass, but it's good glass and they keep it clean, so photos are usually pretty good. Here are two views from Columbia Center and a photo of the top of Columbia Center itself (taken from over on Beacon Hill):



For sunset photos of the Seattle skyline, the Jose P. Rizal Bridge on 12th Avenue at the north end of Beacon Hill is extremely popular. From there, the sun sets above Elliott Bay with Seattle on the right, and on a nice summer evening it's not unusual to find a dozen photographers lined up with tripods capturing the scene. One thing missing from that vantage point is the Space Needle, hidden behind the tall buildings downtown, but that's a minor point when you have views like these:




Another great view of the Seattle skyline can be found along Harbor Avenue in West Seattle. You can park at Seacrest Park near the Don Armeni boat ramp and walk along a wide sidewalk that offers views like this:
And as a final suggestion for views of Seattle, here's a view that not many people see or visit, except for golfers: the view from Newcastle Golf Club up on the side of Cougar Mountain north of Renton. From up there you're looking down on Seattle from a few miles away. Like Jose P. Rizal Bridge, it's a view that's lined up nicely for sunset shots, but from that angle farther east you can see everything from the Smith Tower on the left to the Space Needle on the right: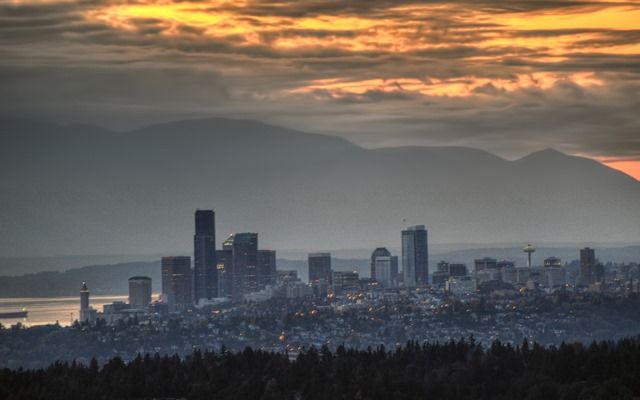 Downtown
Seattle's a nice city for walking, especially if you're looking for some hills and exercise as well as great views. Here are a few photos from walks around the downtown Seattle area: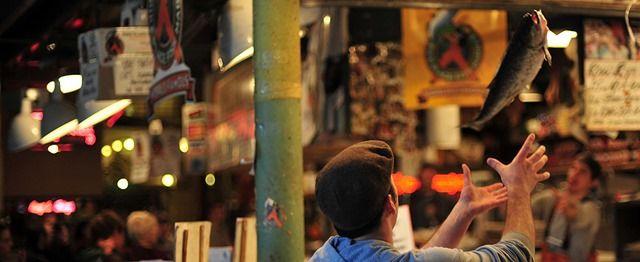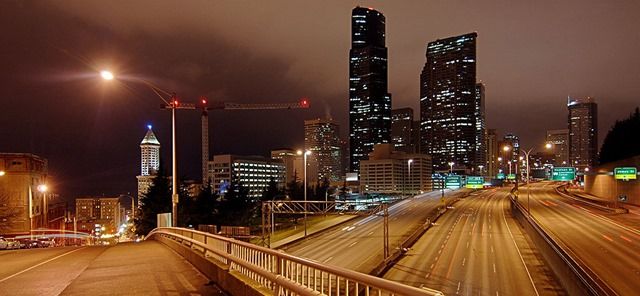 The Ferries
A great way to see spectacular views in the Seattle area is to take the ferry somewhere. The destination doesn't matter – all of the ferry routes on Puget Sound offer great views of the mountains east and west, and the routes in and out of Seattle provide great views of Seattle, too. Here's the view of Port of Seattle and Mount Rainier from a ferry in Elliott Bay:

The Winslow ferry (to Bainbridge Island) is a nice option, because you can walk into the town of Winslow and hang out at a coffee shop or bar for a while before heading back. Here's the view of Seattle from the ferry as it approaches Winslow:

Evening is a nice time for a ferry ride, because the setting sun gives the Seattle skyline a warm glow: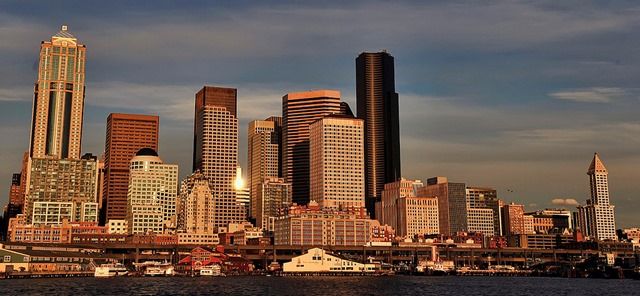 Once nice ferry trip we like to take sometimes is the loop through Vashon Island and Tacoma. To start, catch the Fauntleroy ferry from West Seattle to Vashon, then drive down through Vashon Island to the small ferry that goes to Tacoma. From Tacoma, you can drive up I-5 to Seattle, or for a longer and more scenic loop you can stay close to the east side of Puget Sound up through Dash Point, Saltwater Park, and Des Moines. We often take a detour over to Point Robinson on Maury Island while we're on Vashon; it's a great spot for sunsets, with the vapor trails of Sea-Tac flights glowing in the sky:

If you take the scenic route along the water (leaving Tacoma on Marine View Drive), be sure to stop at the Cliff House restaurant – it's a good place for a great meal, or just to check out the spectacular view of Mount Rainier above the Tacoma waterfront: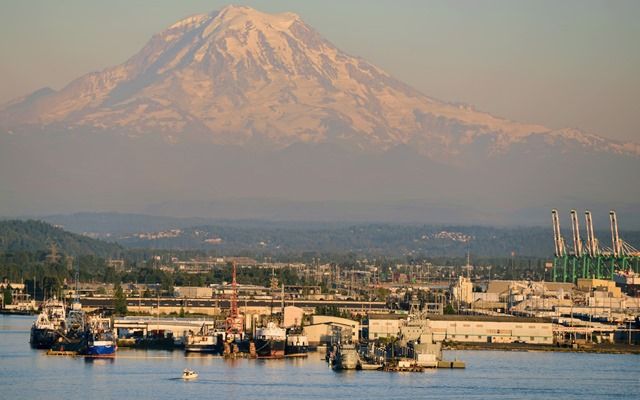 Parks and Hikes
Seattle has many nice parks, and is close to hundreds of hiking trails in the Cascade Mountains.
Seward Park is my favorite Seattle park – in fact, when we bought our home one of our requirements was to be close to Seward Park. It's a wooded little peninsula jutting into Lake Washington, with a 2.5 mile paved trail along the water around its outer edge and many other trails through the woods within. From the south side of Seward Park you get a great view of Mount Rainier above Renton to the south. Here are a few photos at Seward Park:



Discovery Park is another nice option. It's Seattle's largest park and the second-largest urban park in the US (after New York's Central Park). Here's a photo from Discovery Park in winter, looking back across Elliott Bay toward Mount Rainer with a telephoto lens:

Myrtle Edwards Park is a nice place for a sunset stroll at the north end of the downtown waterfront, and it's a short walk from downtown if you're staying at a hotel and don't have a car:

The Washington Park Arboretum is a popular place for photographing plant life, but my favorite is lesser-known and smaller Kubota Garden down in Renton. Here are a few photos from Kubota Garden:




Moving beyond the city limits, there are countless hikes in the Cascade Mountains. Rattlesnake Ledge is a popular hike 30 minutes outside Seattle that provides a great view of Mount Si, North Bend, and the Cedar River Watershed area:


Snow Lake is another popular destination – in fact, it's the most popular wilderness hike in the state of Washington. It's not a place to get away from the crowds, but it's conveniently located just off I-90 at Snoqualmie Pass, and the views speak for themselves:



Our favorite spot near Seattle to get away from the crowds is the Middle Fork Snoqualmie River valley. It's a bumpy dirt road extending north 12 miles from exit 34 on I-90 (17 miles if you take the Dingford Creek spur at the end), with numerous hikes along the way. UPDATE: the road was paved in 2015-2017, so it's not as uncrowded as it used to be, but easier for non-4WD vehicles.
Here are a few photos of the Middle Fork valley:



Those are just a few hikes that I take often, but there are dozens of other good options near Seattle as well. The Washington Trails Association web site is a great source of information about hiking options in the area.
Day Trips
There are many places within a day's drive of Seattle, so I'll just cover the day trips in Western Washington that I tend to take the most.
First up is Kalaloch, on the Pacific Ocean coast. The drive there includes a ferry ride to Winslow, the Hood Canal bridge, Port Angeles, Lake Crescent, and Forks.




That's my favorite day trip to the west, and to the east I like to take I-90 over to the Columbia River gorge, then up to Wenatchee and back across Blewett Pass. Here are photos from that route:




Mount Rainier is a popular destination, and when I drive there I prefer to go on Highway 410 to Tipsoo Lake near Chinook Pass. There are many nice hiking trails in that area (including the Pacific Crest Trail), and here's the view from the parking area: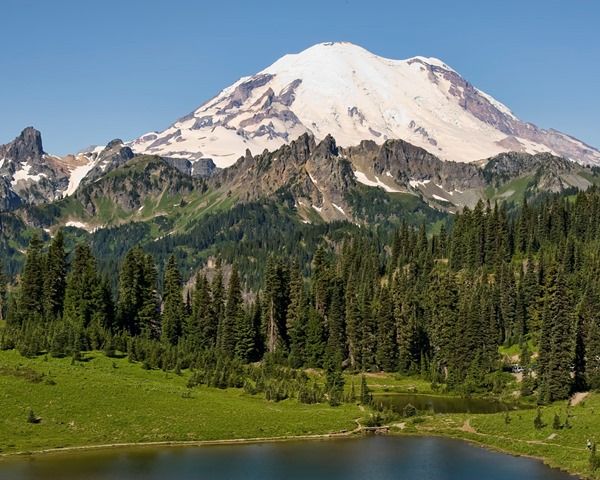 There you have it – my favorite sights around Seattle. If you're visiting Seattle, I hope that helps give you a few ideas.
I'm into photography, so my list is biased toward great views and other people can do a much better job of telling you where to find Seattle's best food or shopping or other things. But regardless of what you do when you visit Seattle, remember the most important thing: tell all your friends that it rained the whole time you were here. With so much great scenery, that's the only way we can keep tourism down to manageable levels!