Taking Jamie Home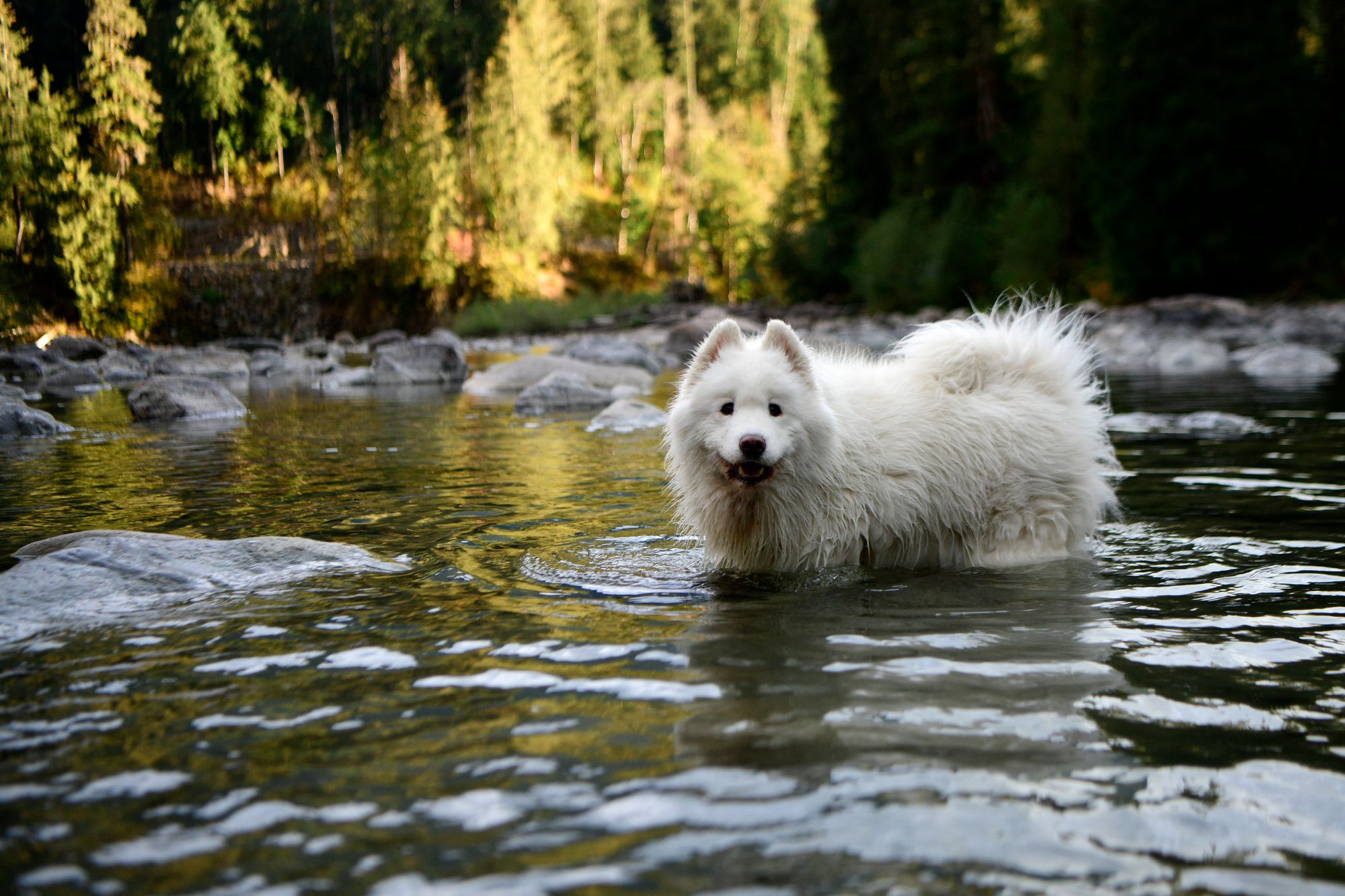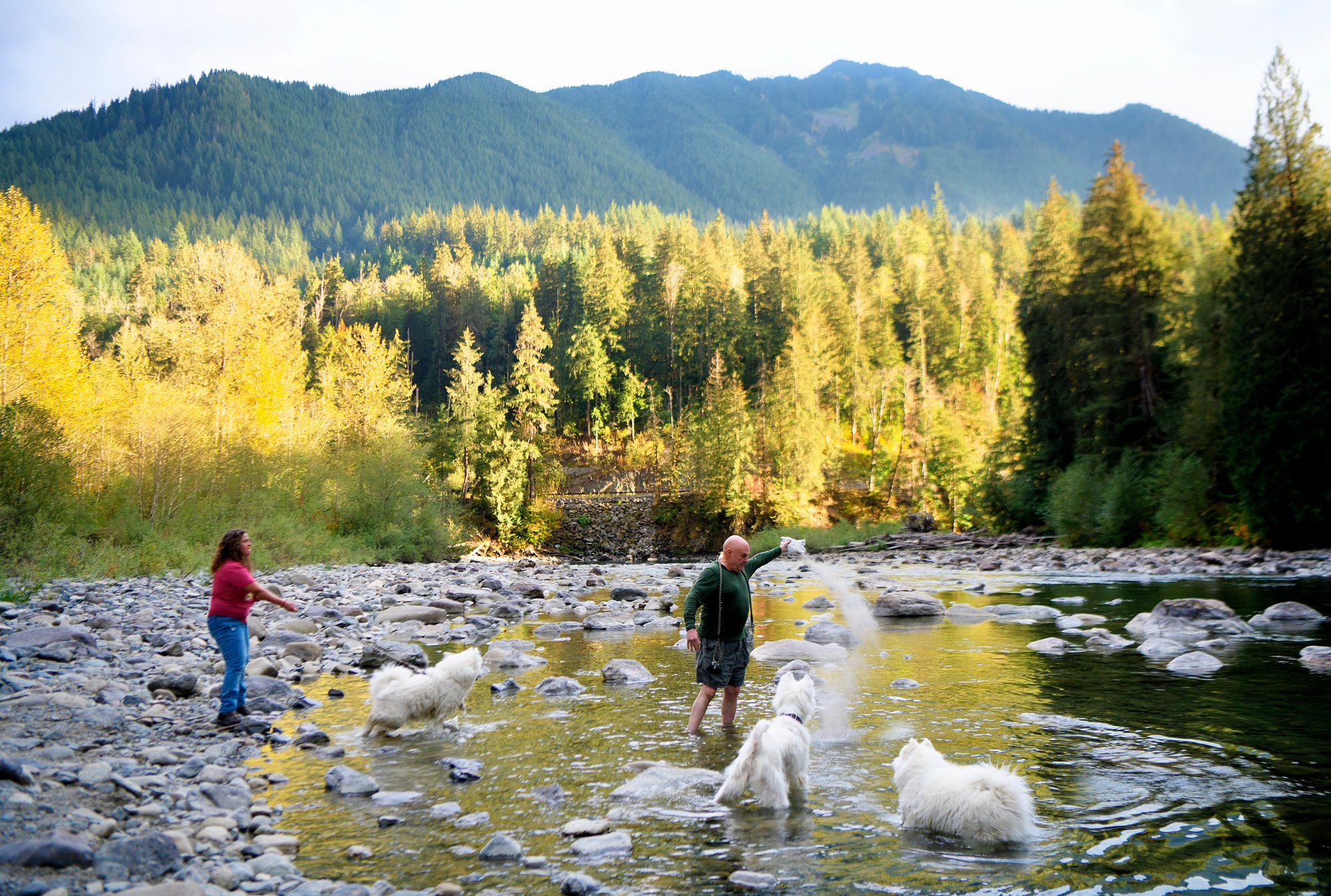 We scattered Jamie's ashes today. It was fun to bring Isaac to this place that meant so much to Jamie and Alice, and it was also nice to bring Nancy back – she had only been there once as a pup. But most of all it was fun to see Alice's face when she realized she was back in the Middle Fork Valley, where the legend of Off-Road Alice was born.
It was an emotional experience, more so than I expected. I hadn't really thought through the fact that I've driven the western 600 miles of I-90 countless times in my life, and every time in the last 12 years (20 or more total, I'd estimate) Jamie was with me. Today would be our last trip down that road with him, and every few miles we saw something that triggered a memory of Jamie. All day long, we laughed and cried (mostly), and eventually we found ourselves at the Middle Fork Valley.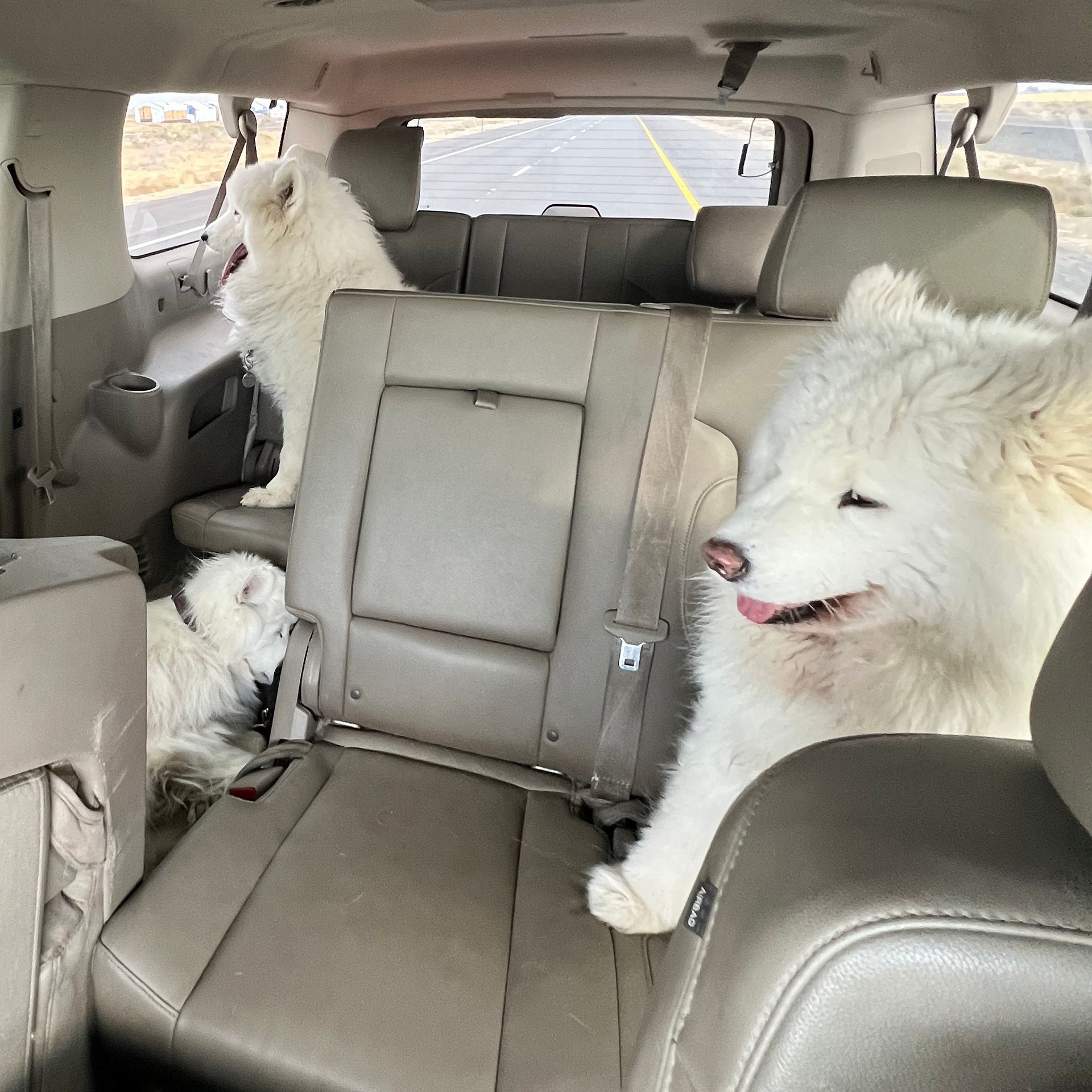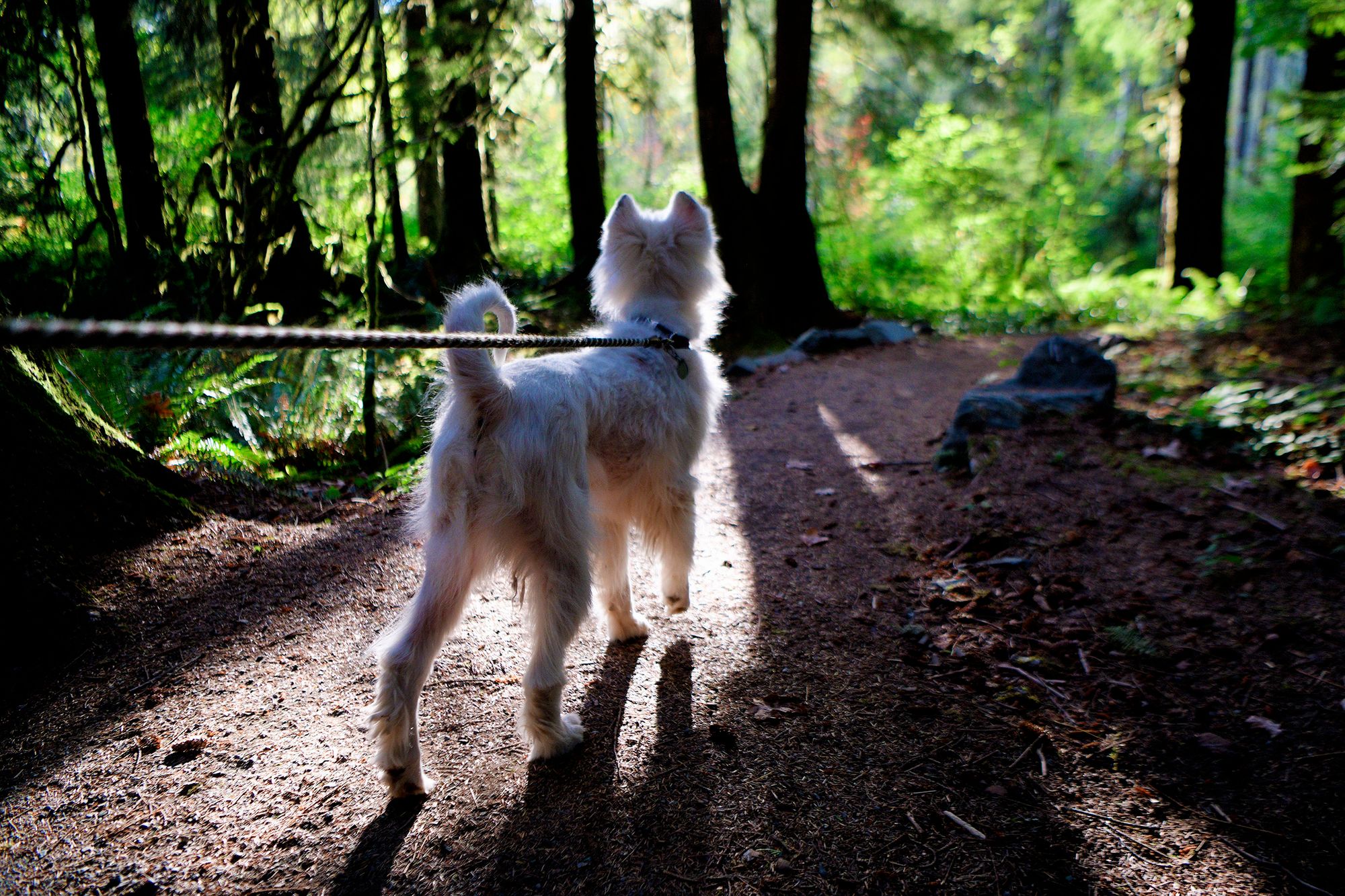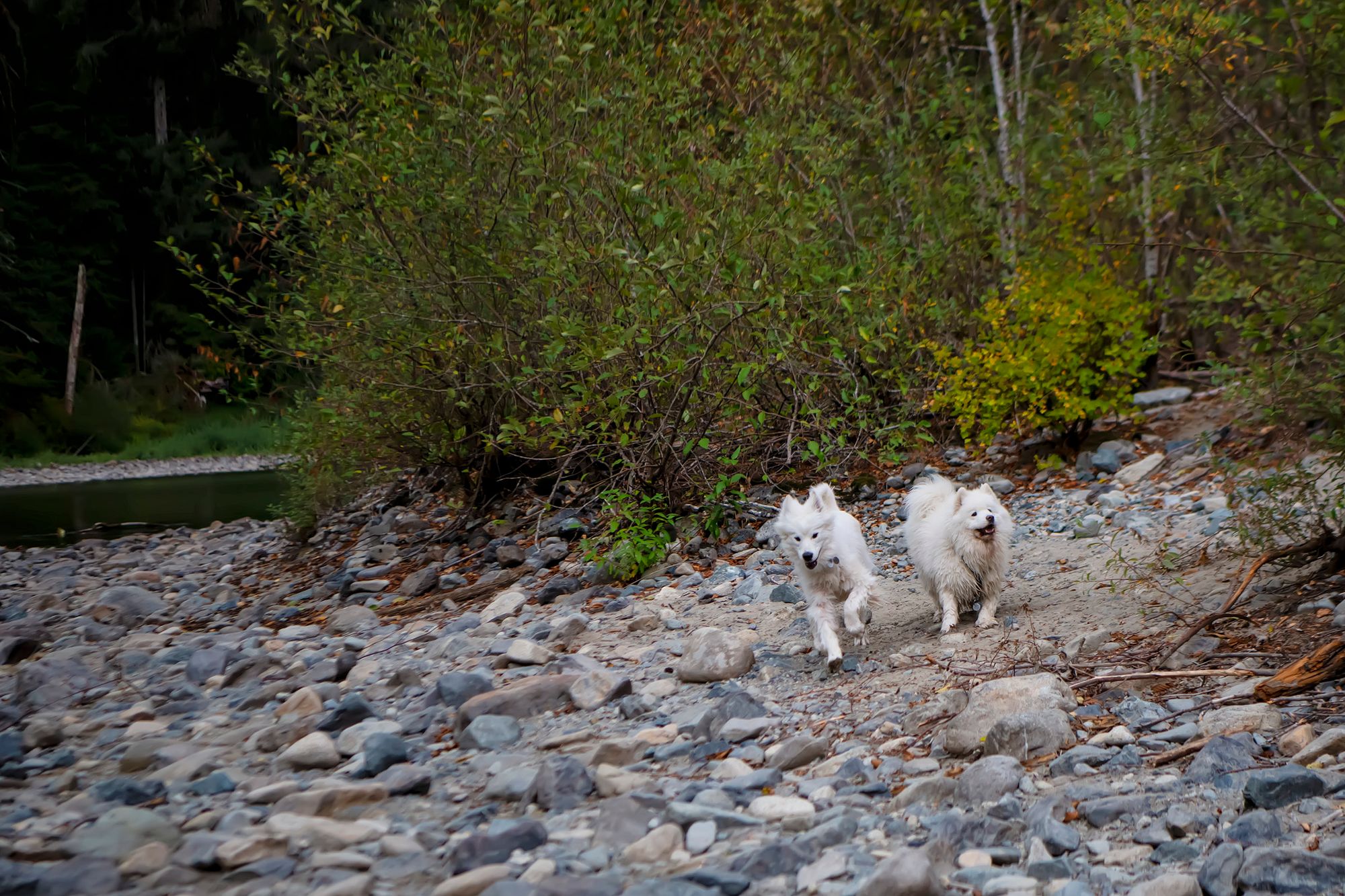 It felt good to bring Jamie back to this place where he experienced so much joy throughout his life. I've tried to document some of that joy below, and I've also included instructions for how to get to his resting place in case you ever find yourself in the North Bend area and want to visit him. Our pack will definitely be back to visit him every chance we get.
Jamie and the Middle Fork
When we first took Jamie to the Middle Fork Valley at age three months, none of us knew what an important role the area would play in his life. He hiked the Middle Fork many times in his first year, and by the time Alice came along he had explored several trails including Taylor River, Dingford Creek, Rock Creek, and the CCC Trail.
Alice took her first hike with Jamie at the Middle Fork, and on a cold New Years Day morning she crashed through the ice in a pool along the Rock Creek trail and went for her first swim. More adventures followed in the years ahead, and by a decade later Jamie and Alice had spent more off-leash time in the Middle Fork Valley than anywhere else except our own fenced yard.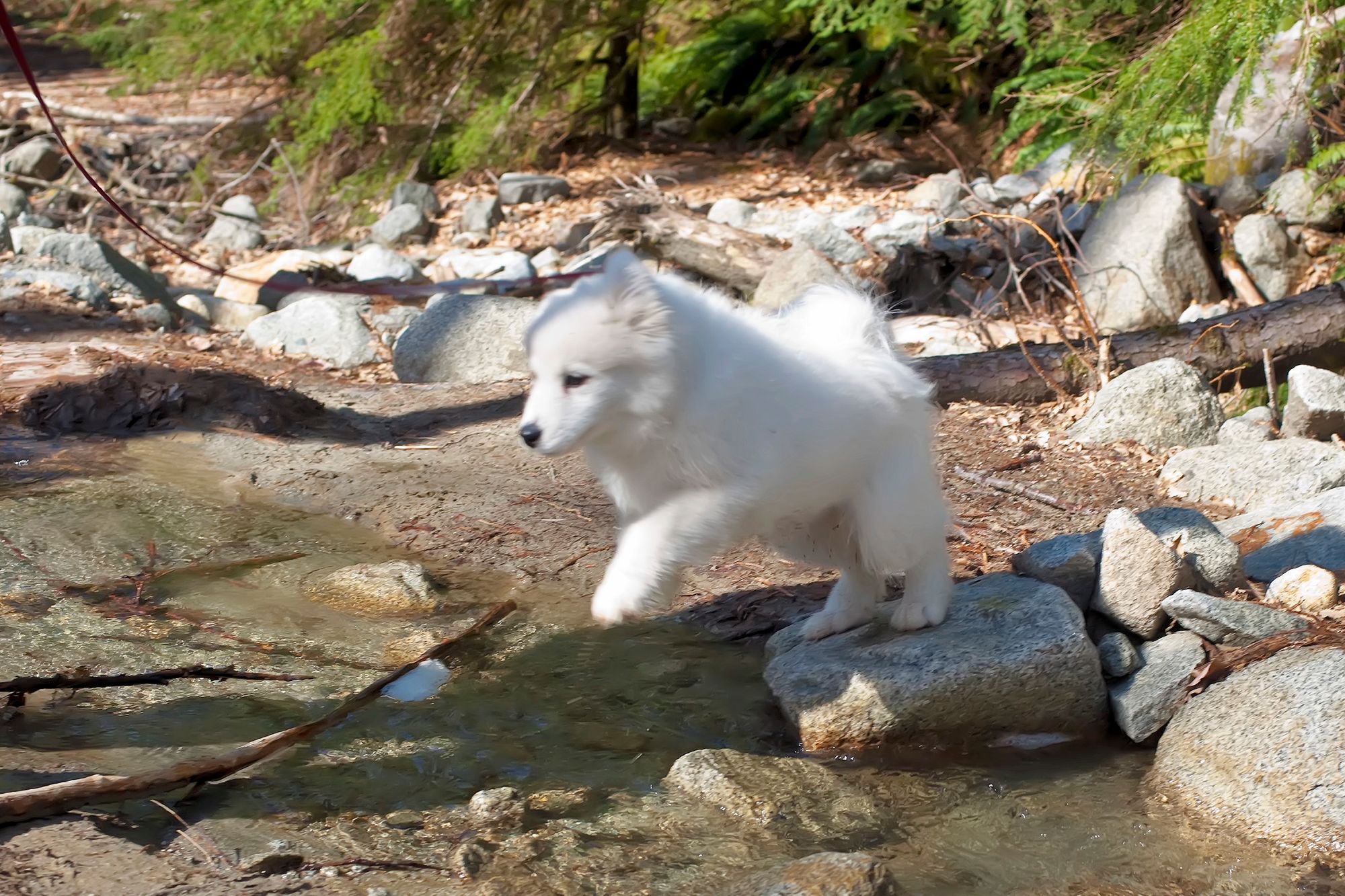 Middle Fork Valley is on the west side of the Cascade Mountains 40 miles from where Jamie lived in Seattle. This area gets about twice as much rain as Seattle, keeping the valley lush and green most of the year, with dense stands of trees towering over moss and ferns. The area was logged several times throughout the 1900s, so most of the trees are from 20 to 120 years old, but at higher elevations near the Alpine Lakes Wilderness Area at the north end of the valley (beyond the reach of logging operations), there are old-growth forests with trees over 500 years old.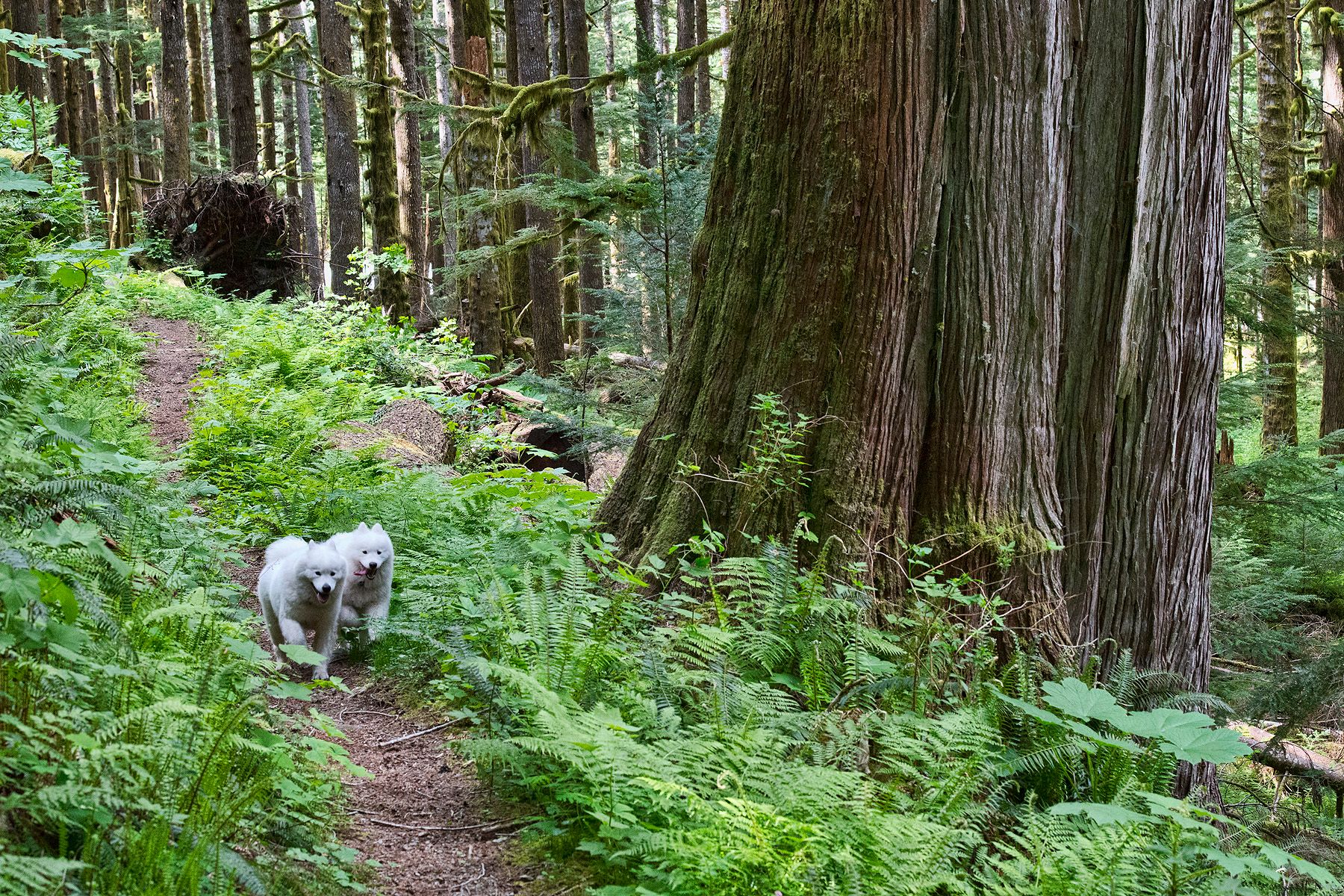 We started going to the Middle Fork in 2010 when Jamie was a pup, before Alice was born. Back then it was Washington State Trust land managed by the Department of Natural Resources, and on Jamie's first hike we heard gunshots and I took pictures of signs riddled with bullet holes. But the following year, the DNR established the Middle Fork Snoqualmie Natural Resources Conservation Area to protect 9000 acres of habitat for the spotted owl, native mountain goats, and several endangered species. Soon the trails were being improved, we rarely heard gunshots any more, and a few years later they started paving the road.
Below are a few galleries of Jamie's favorite areas in the Middle Fork Valley.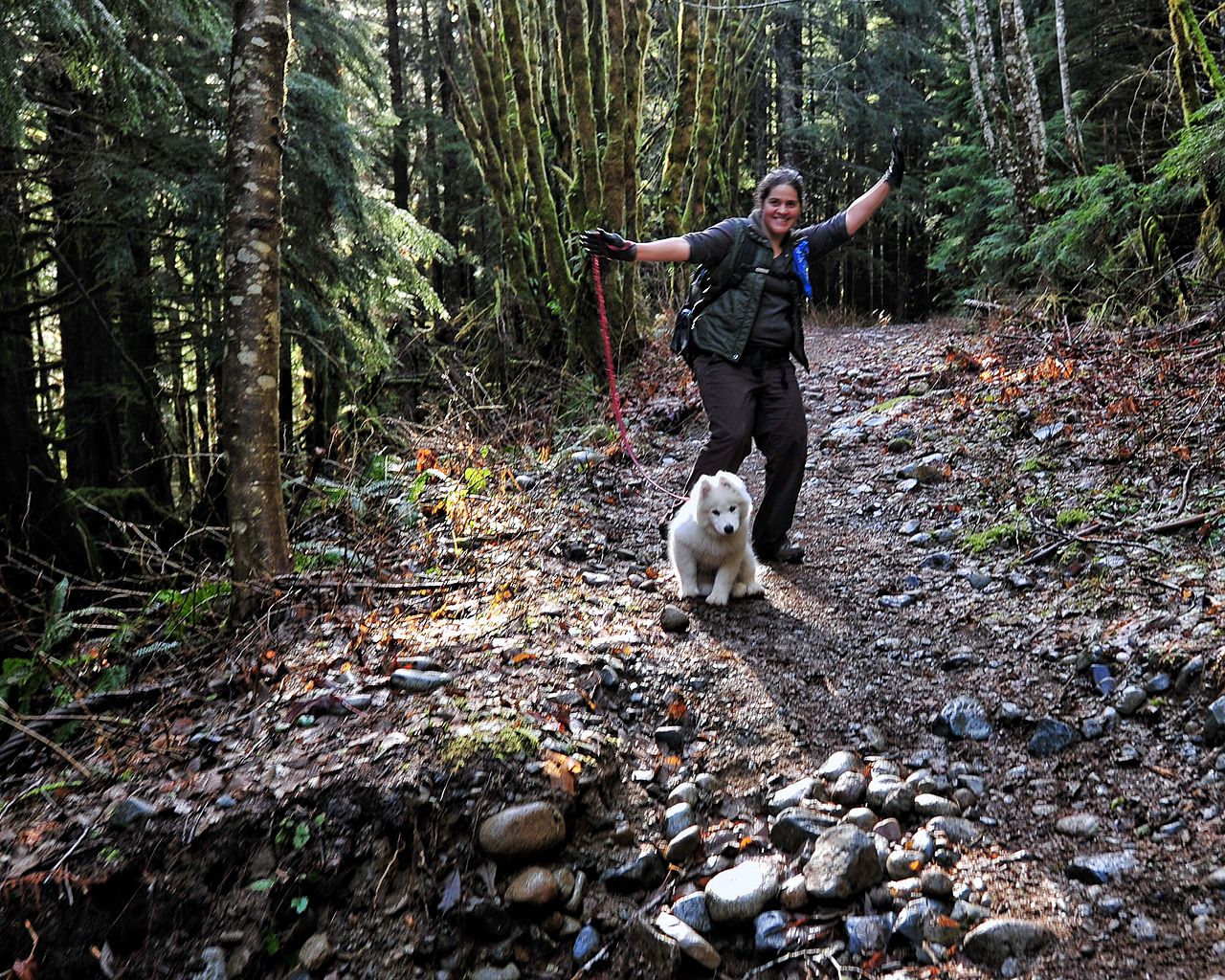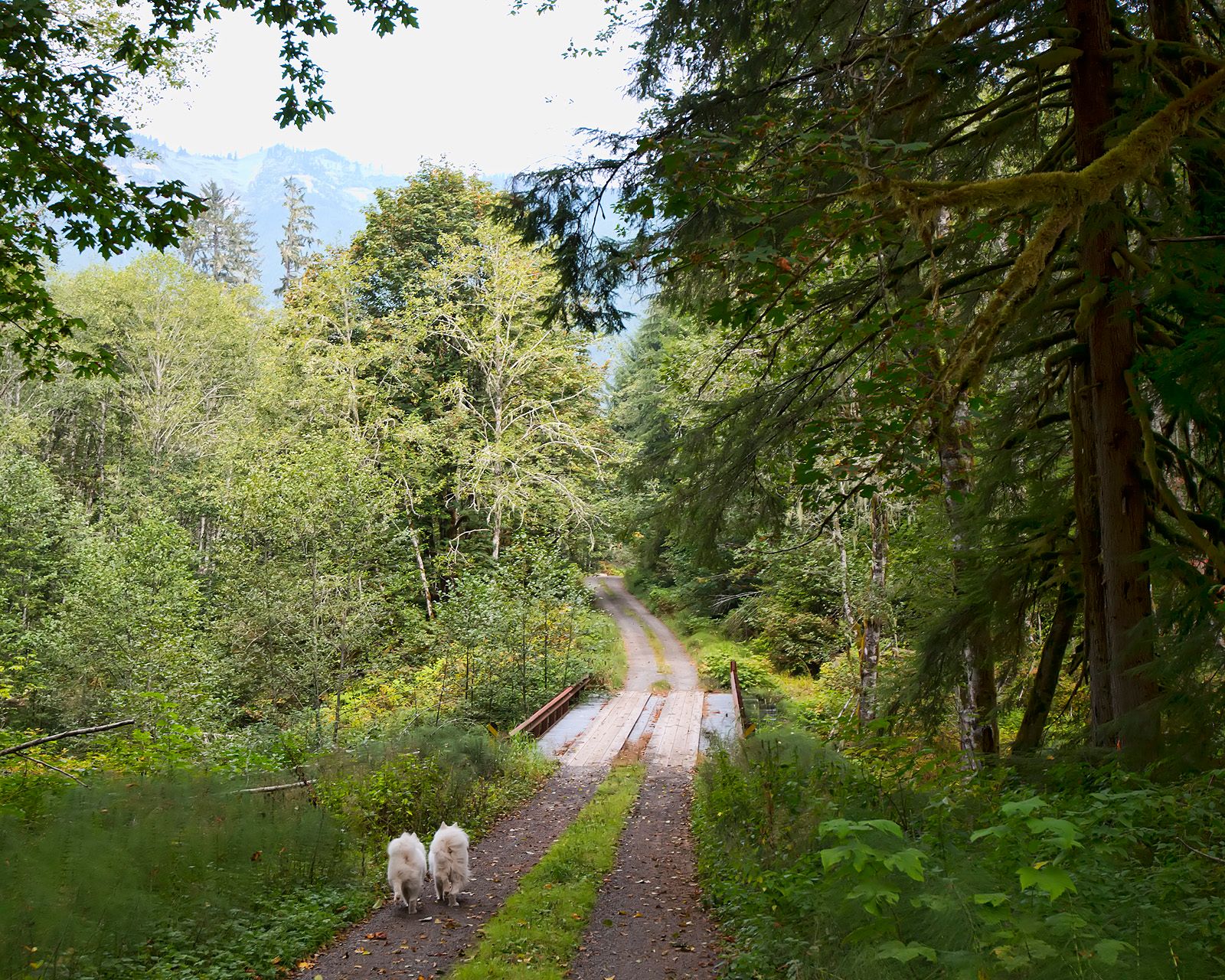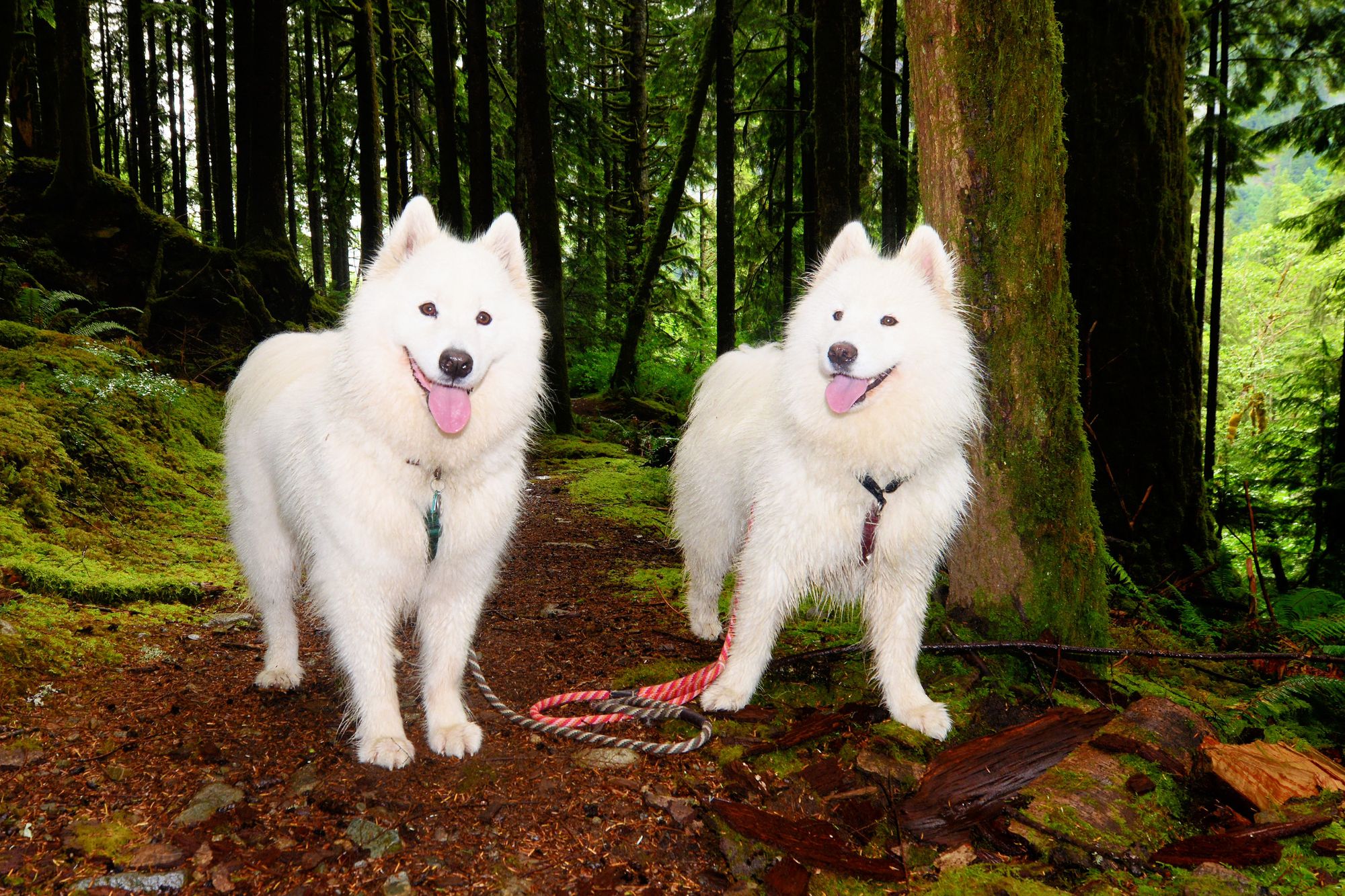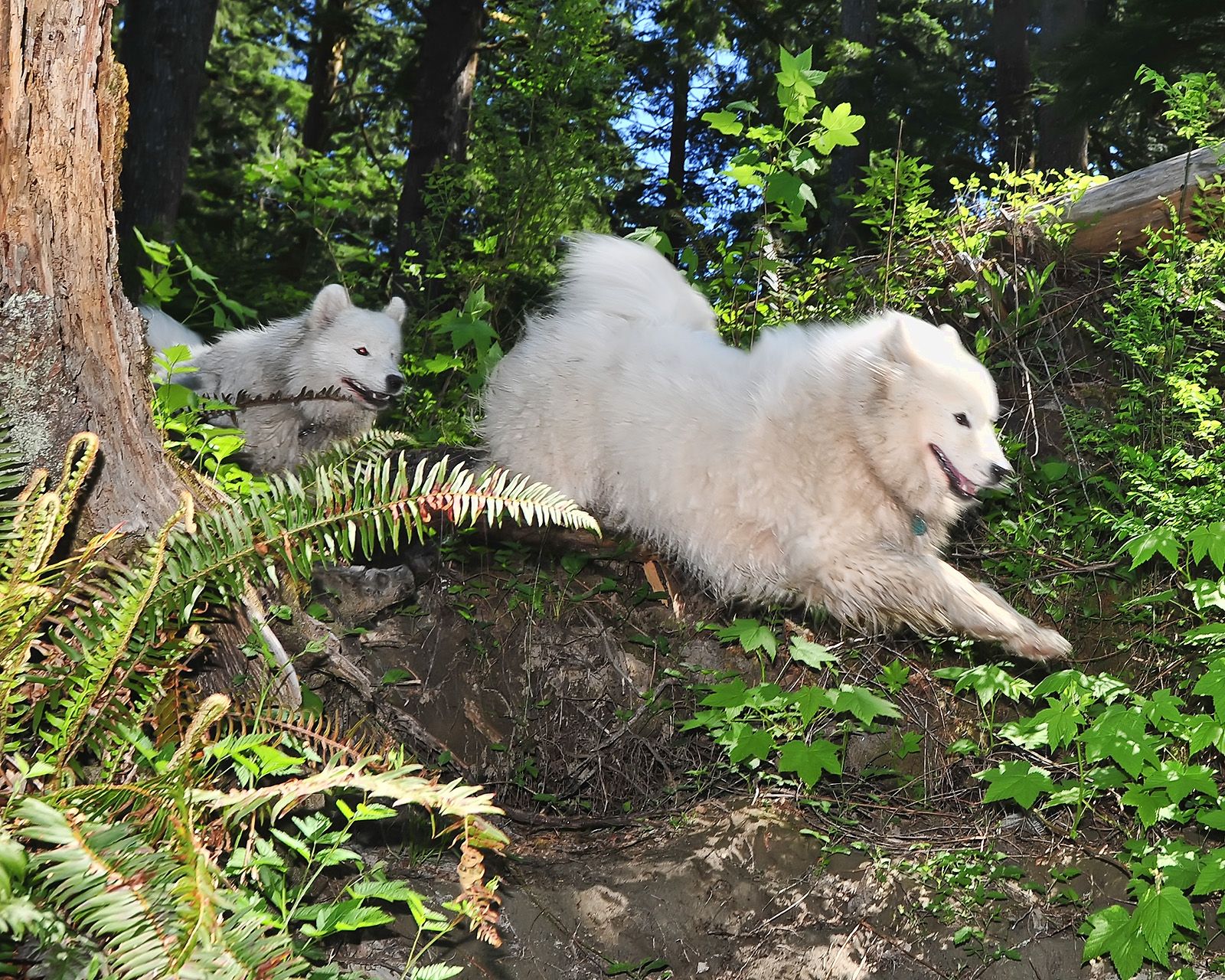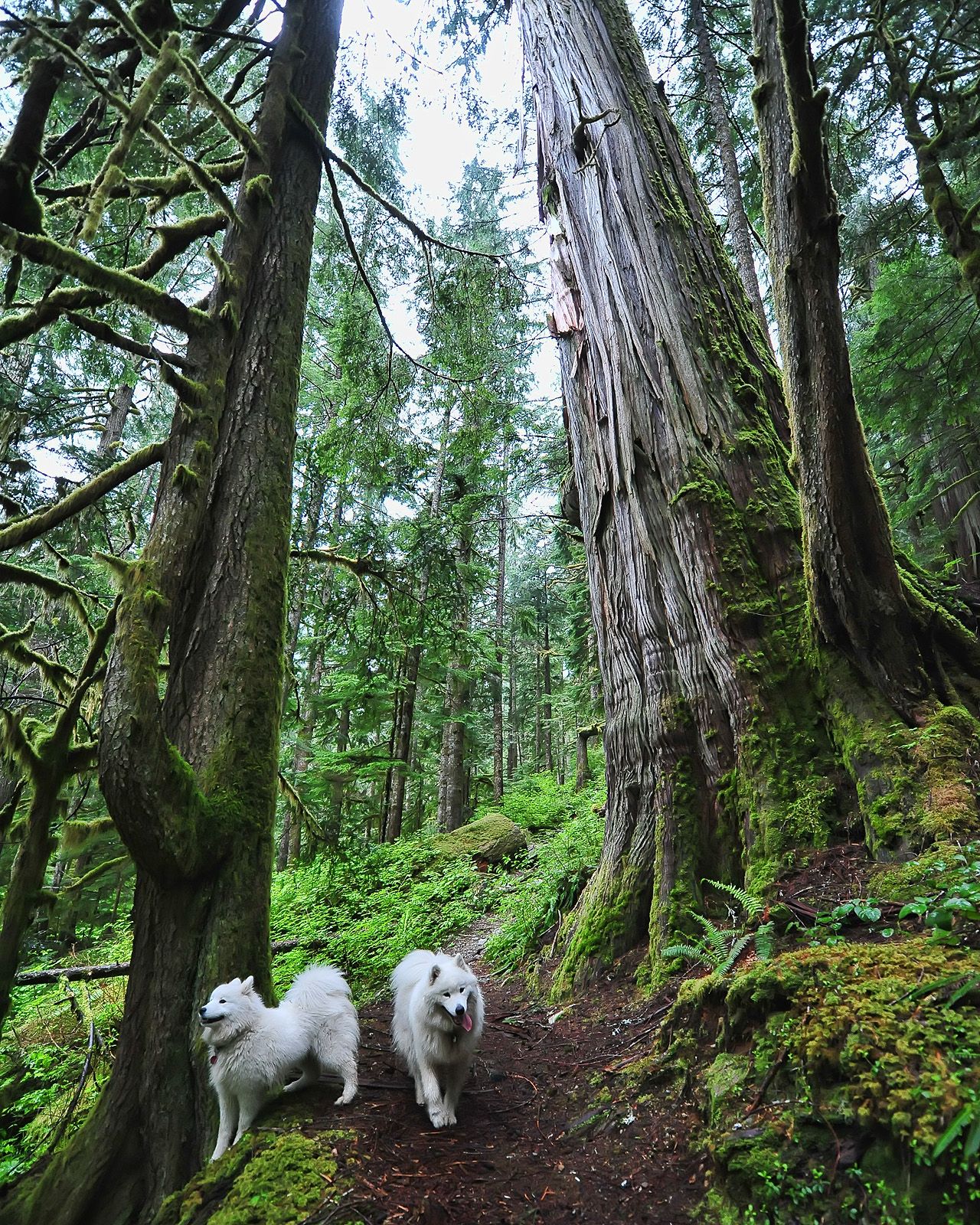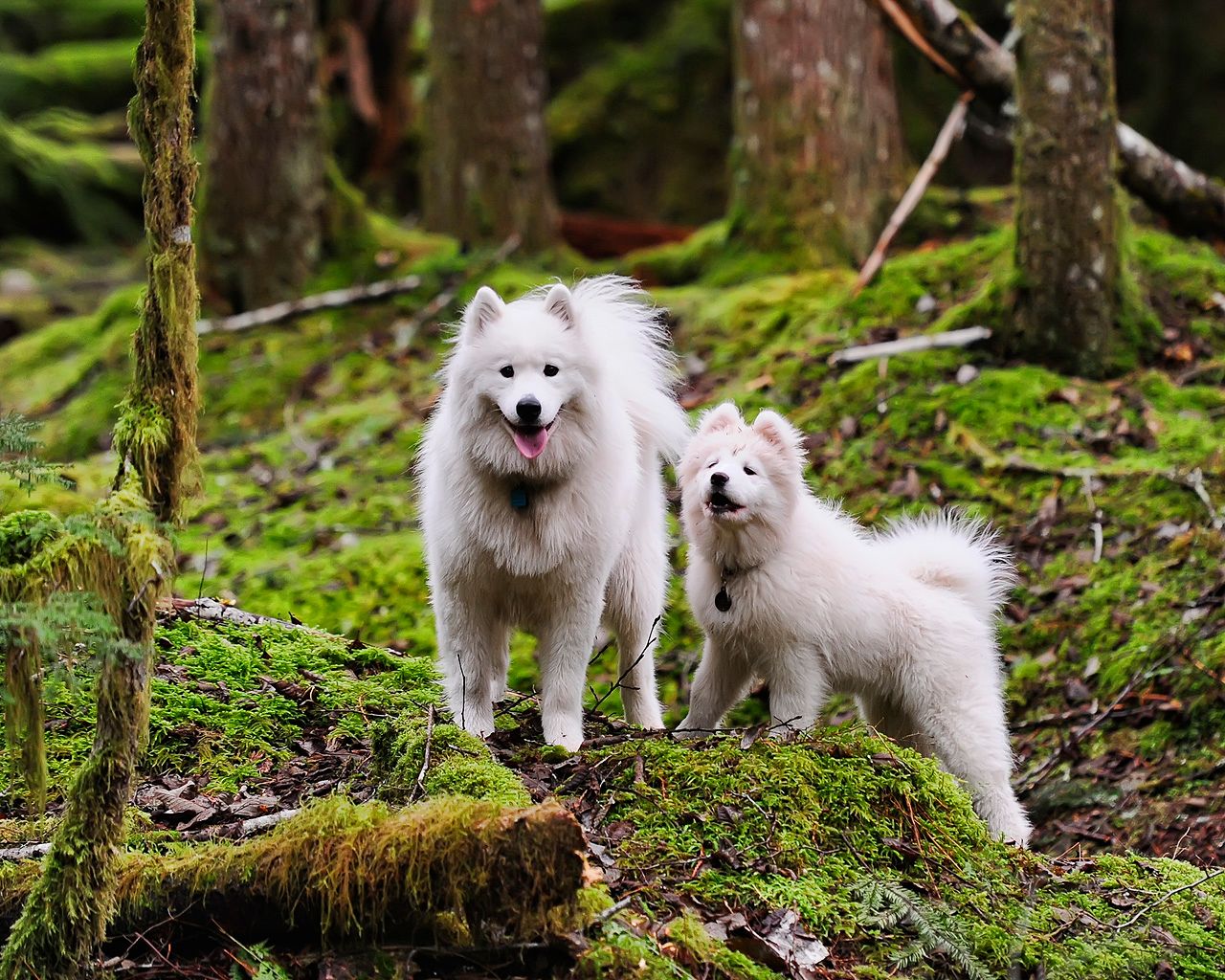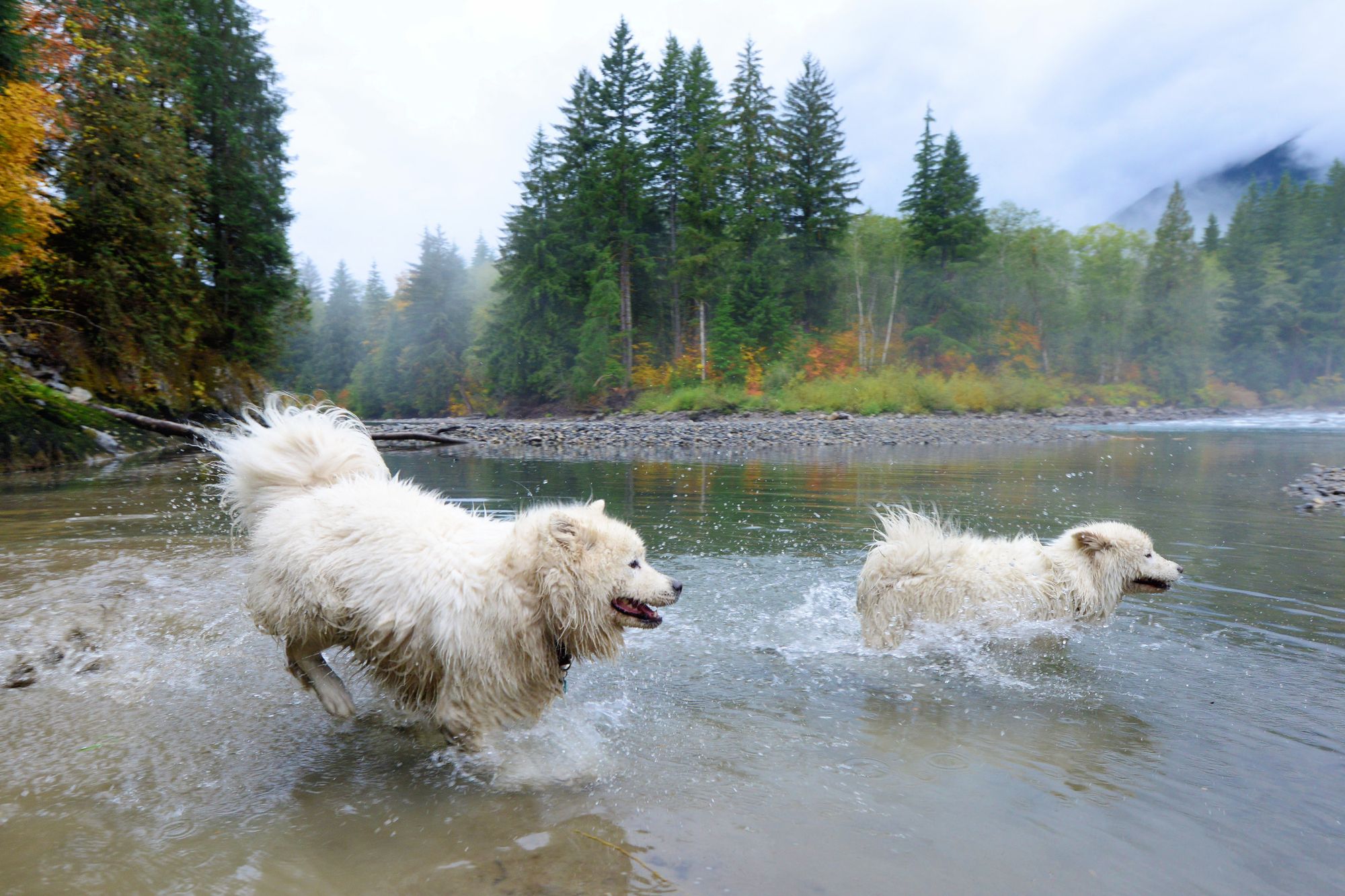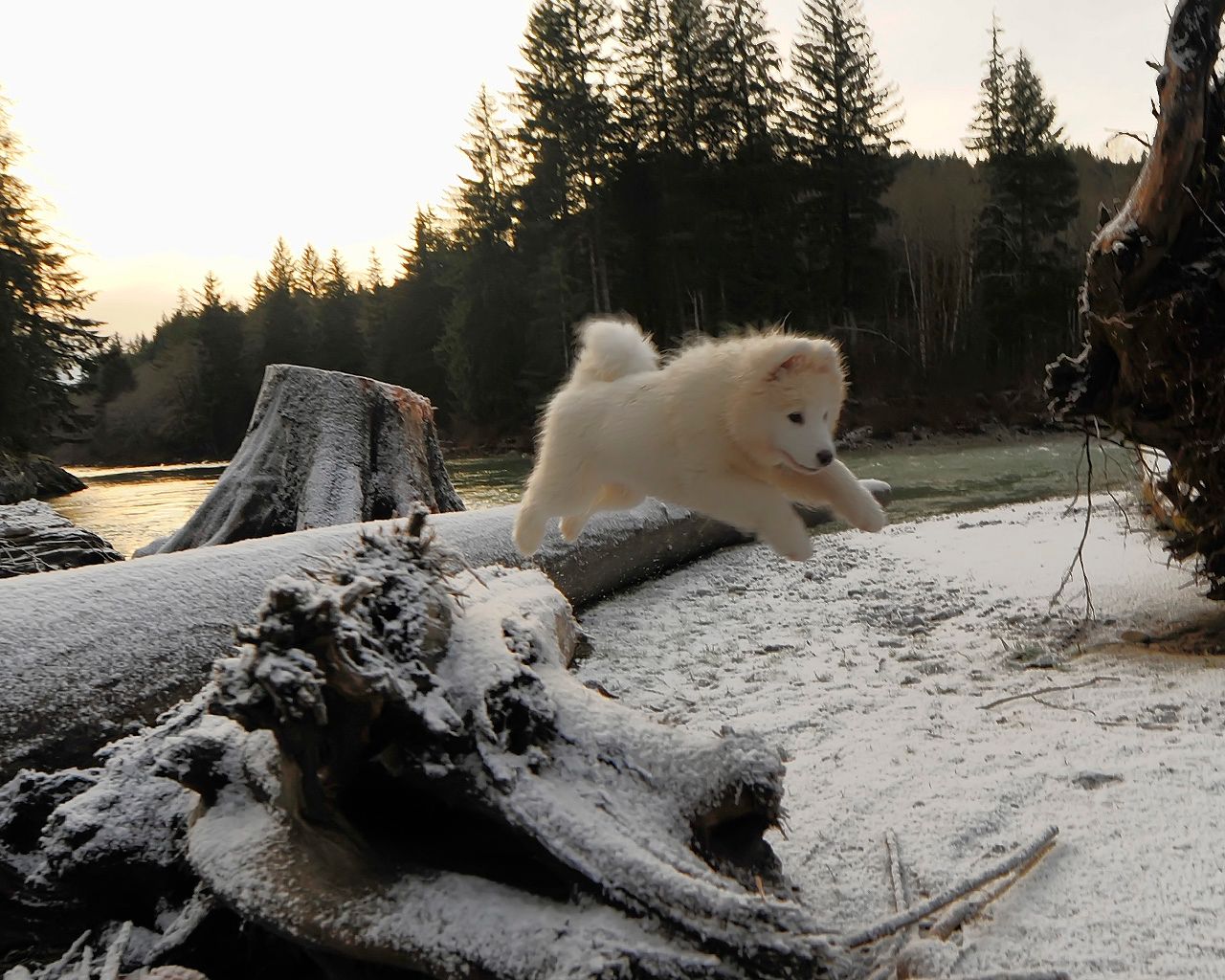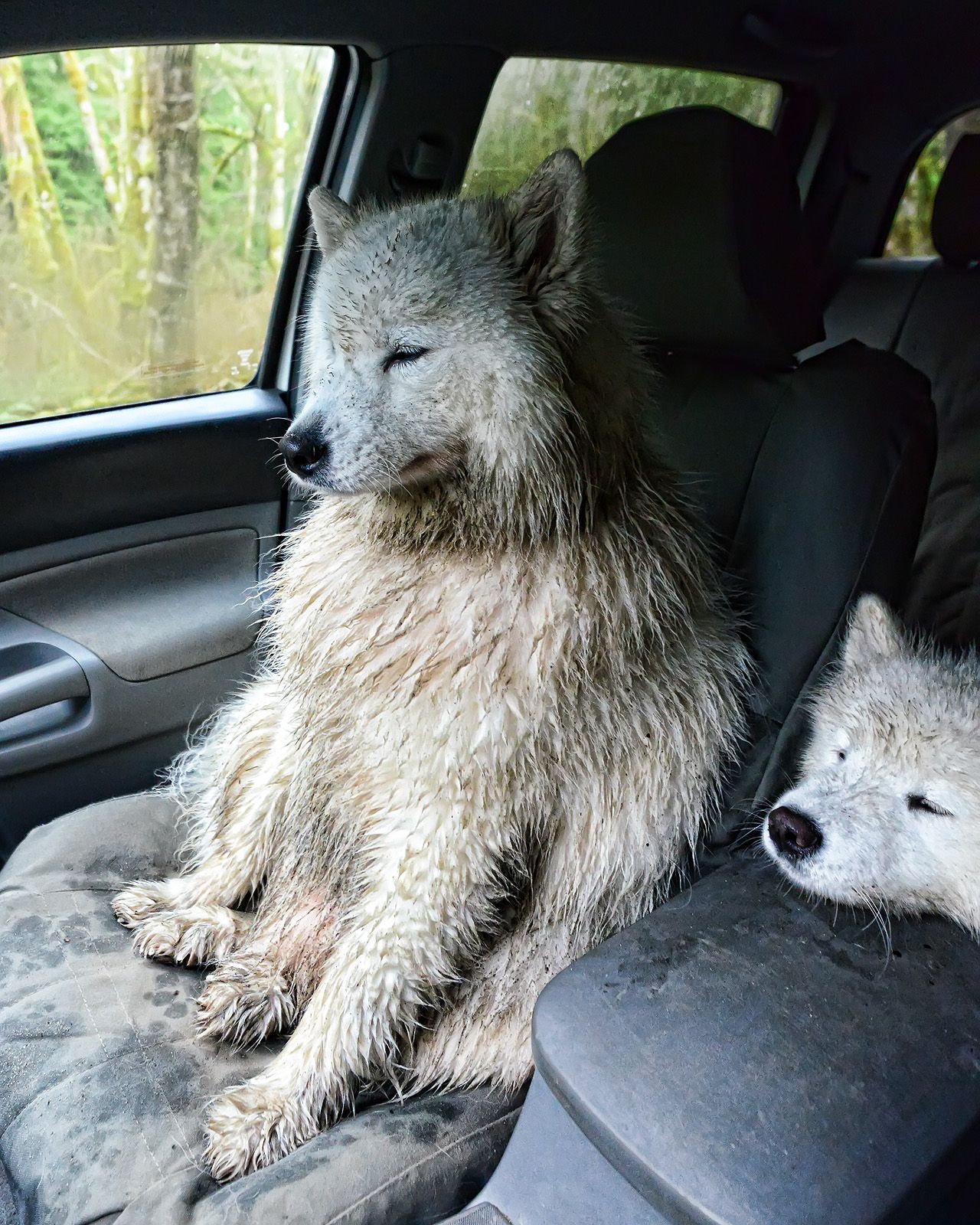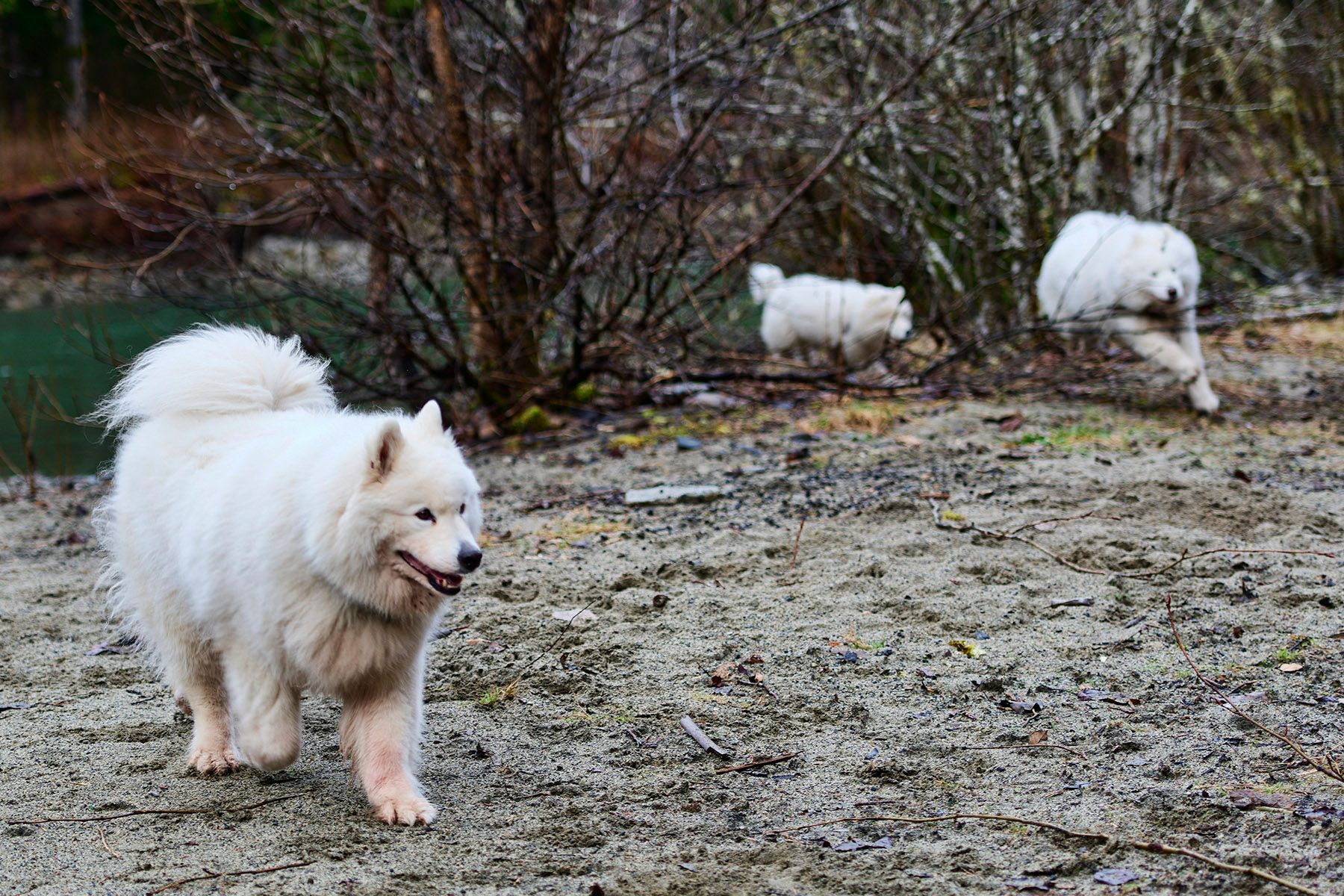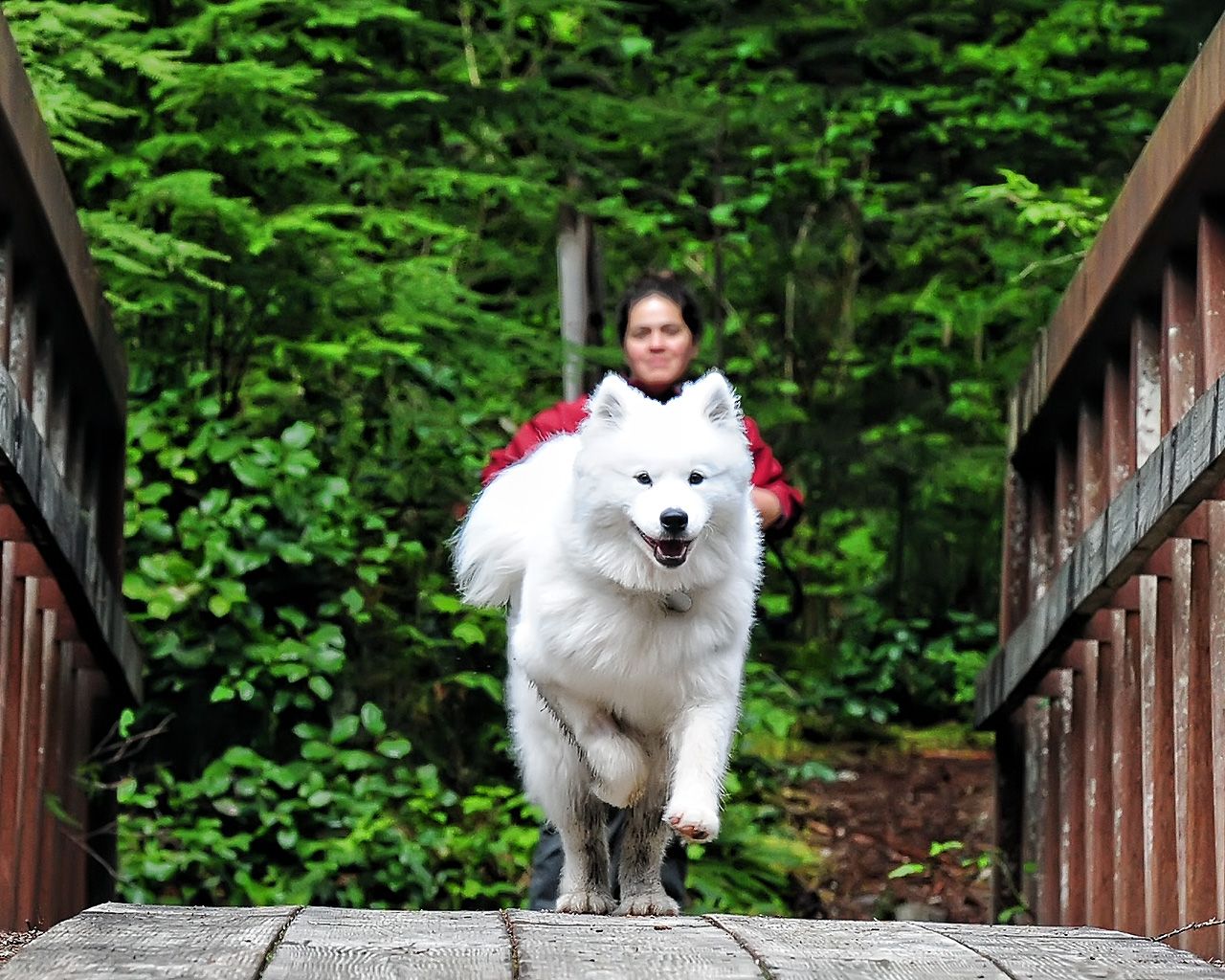 When my first Samoyed Rex died tragically and young, we scattered his ashes at a place he ran joyfully off-lease many times: Busse Woods in the Chicago Forest Preserve. When Rex's sidekick Mia died six years later, we scattered her ashes at a place she ran joyfully off-leash many times: Frenchman Coulee, the huge rocky gorge the Old Vantage Highway used to follow down to the Columbia River.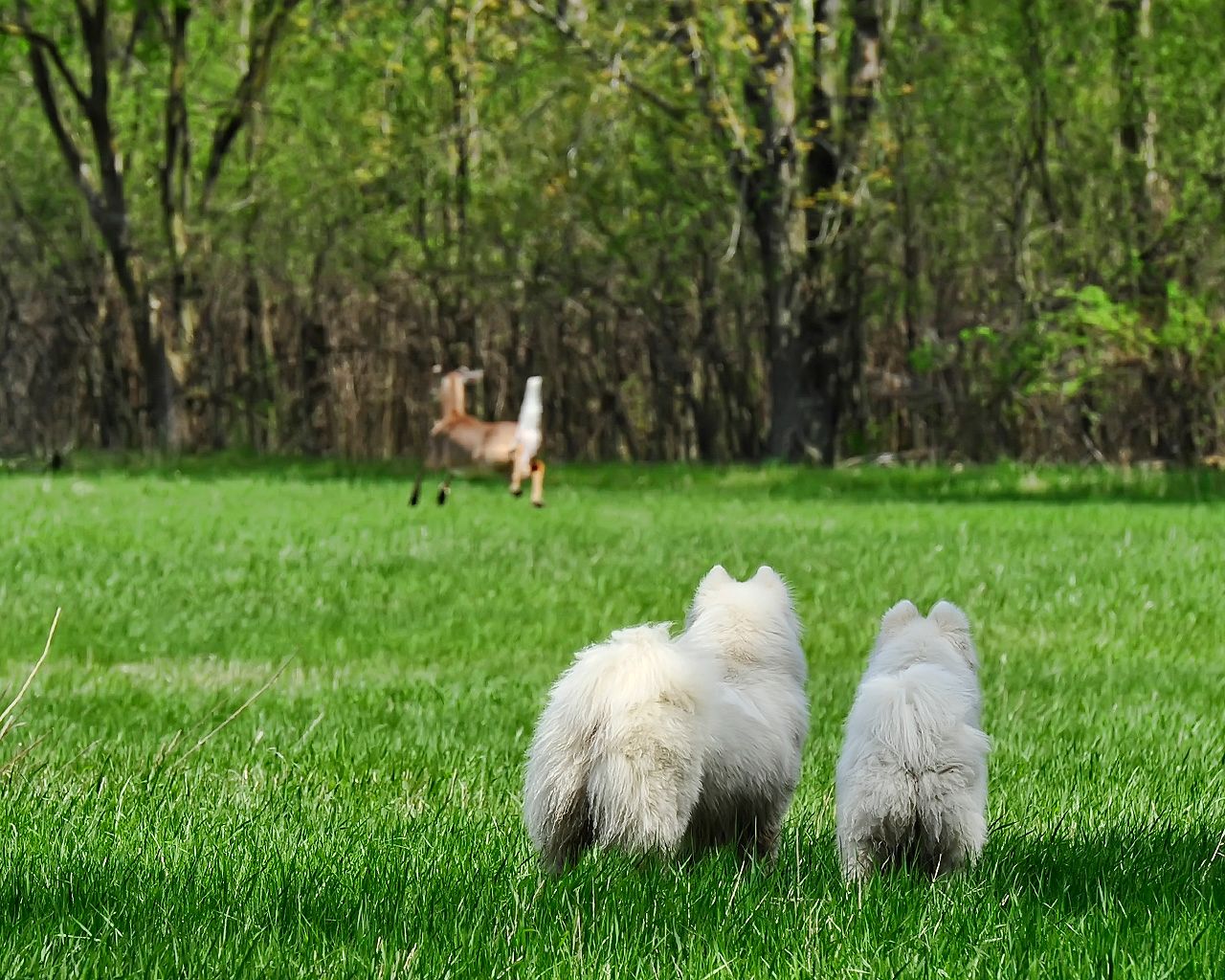 We've known for years that some day we would scatter Jamie's ashes in the Middle Fork Valley. But where in the Middle Fork Valley?
Jamie had several favorite spots up and down the 15 miles of the Middle Fork Valley, and we decided to scatter his ashes at a place that is accessible, a place where people and dogs can easily go run with him in the future. Champion Beach, a sandy area just off the road at a sharp bend in the river, fits the bill perfectly, and Jamie had many wonderful days there.
Getting There
We hope you'll visit Jamie if you ever have the opportunity.
To get to Champion Beach, take Exit 34 east of Seattle and drive 4.4 miles up the Middle Fork Road. You don't need high clearance or 4WD to get there, it's smooth pavement all the way ever since they paved the notoriously rough dirt road a few years ago. You can see the beach from your car, down below and to the left of the road along a bend in the Middle Fork Snoqualmie River.
If you want to walk down to the beach, there's a parking area and trail on the left about a quarter mile further up the road, with a nice new trail down to the beach. Bring your dog, if you have one. They'll love it.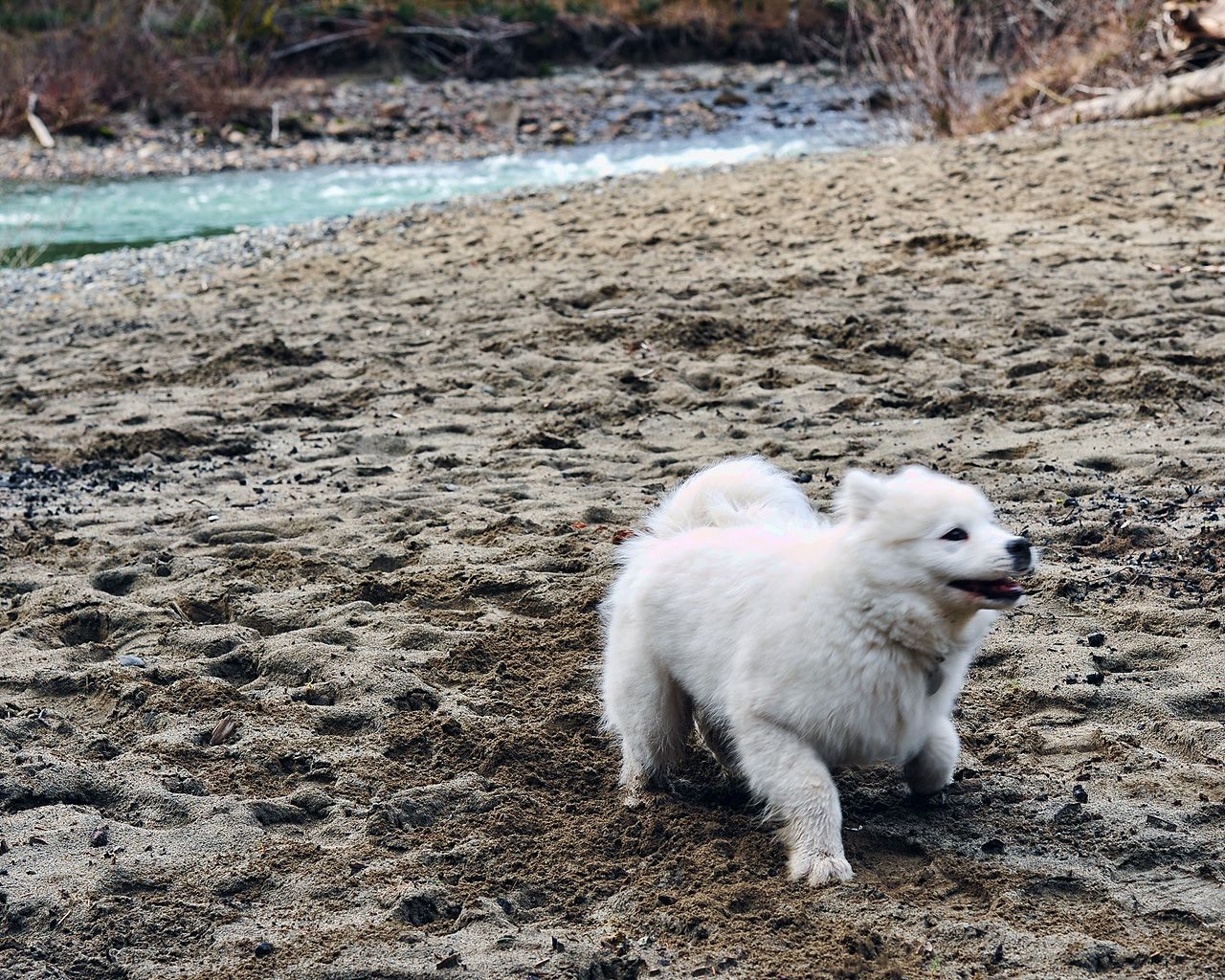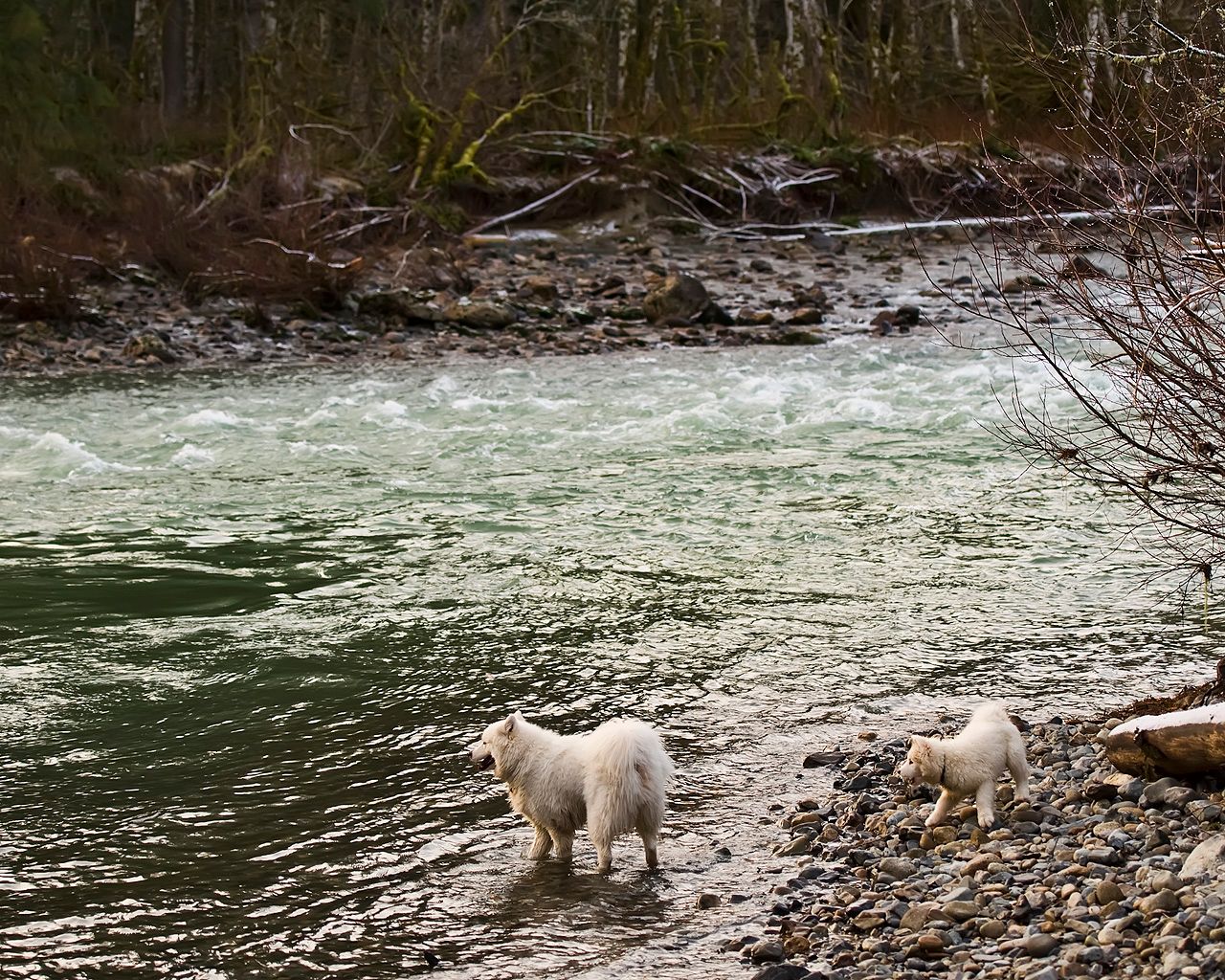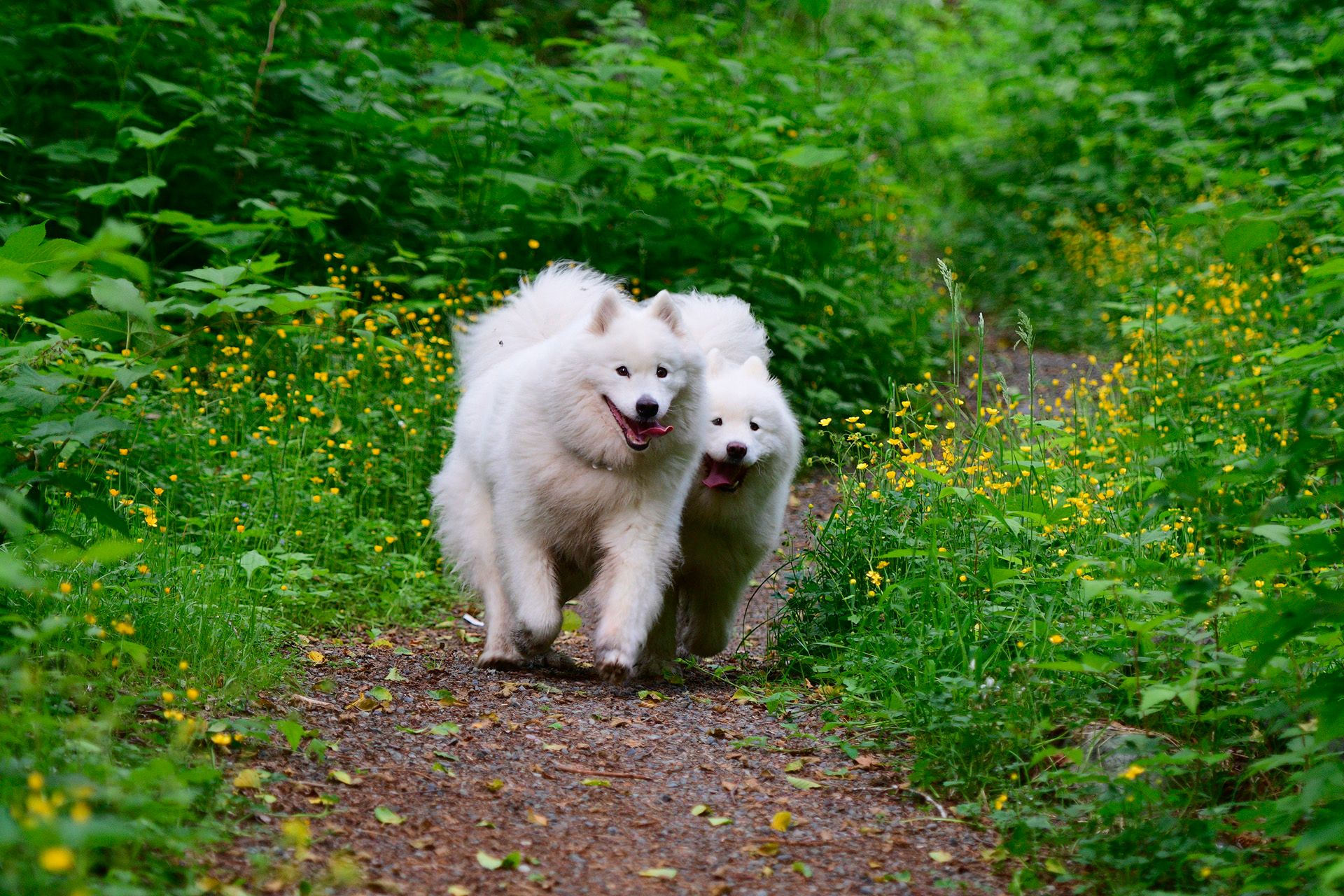 Jamie's Pack
Everyone wonders how Alice, Nancy, and Isaac are doing. The simple answer is that they're doing great, all things considered.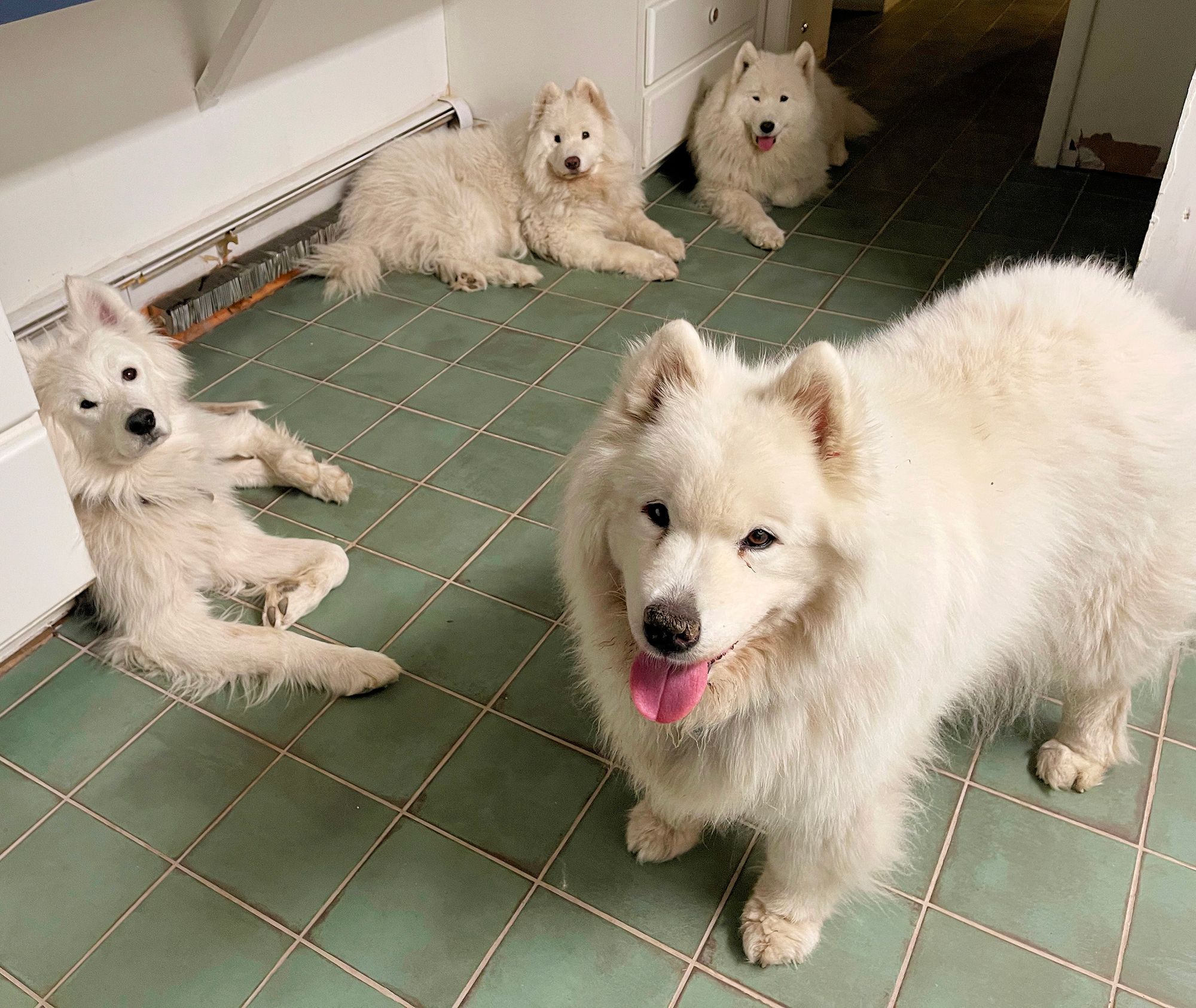 Nancy, like her brother Strummer, has an indomitable spirit, and after the first day or two she has been her usual upbeat self night and day. Isaac has started taking on Jamie's role in the pack at times, and he follows me around and sticks close like Jamie often did. And I love the way he pounces on Alice to get her in a playful mood.
Alice still seems quiet at times, but she has also gotten back to being her playful self most of the time. In Jamie's final months his routine was often apart from the other three, so Alice's life hasn't changed as much as it would have if she'd lost Jamie back when they were side by side night and day.
The biggest difference in the tone of our pack since Jamie's been gone is that it feels leaderless. That's not a good or bad thing, it's just different.
Jamie wanted to be a leader from an early age, and as his pack grew there was never any doubt that he was in charge. He had opinions about the behavior of other pack members, and he didn't hesitate to try to get his fellow pack members – both canine and human – to "do the right thing" as he saw it.
Alice, Nancy, and Isaac can all be opinionated, but none of them wants to be in charge of anyone else. Jamie, on the other hand, was the pup who would grab the back of my boot and try to turn me around if I started heading back the way we came on a hike, or the dog who would grab Alice's leash and try to lead her down the sidewalk. He seemed to believe he could make a difference.
Alice, Nancy, and Isaac have none of that. They get along great, and share joy and affection all day long just like Jamie did, but they're just a group of happy dogs enjoying life together. That's fine with us, and we plan to to honor Jamie's legacy by giving his pack the best life we possibly can.