Nancy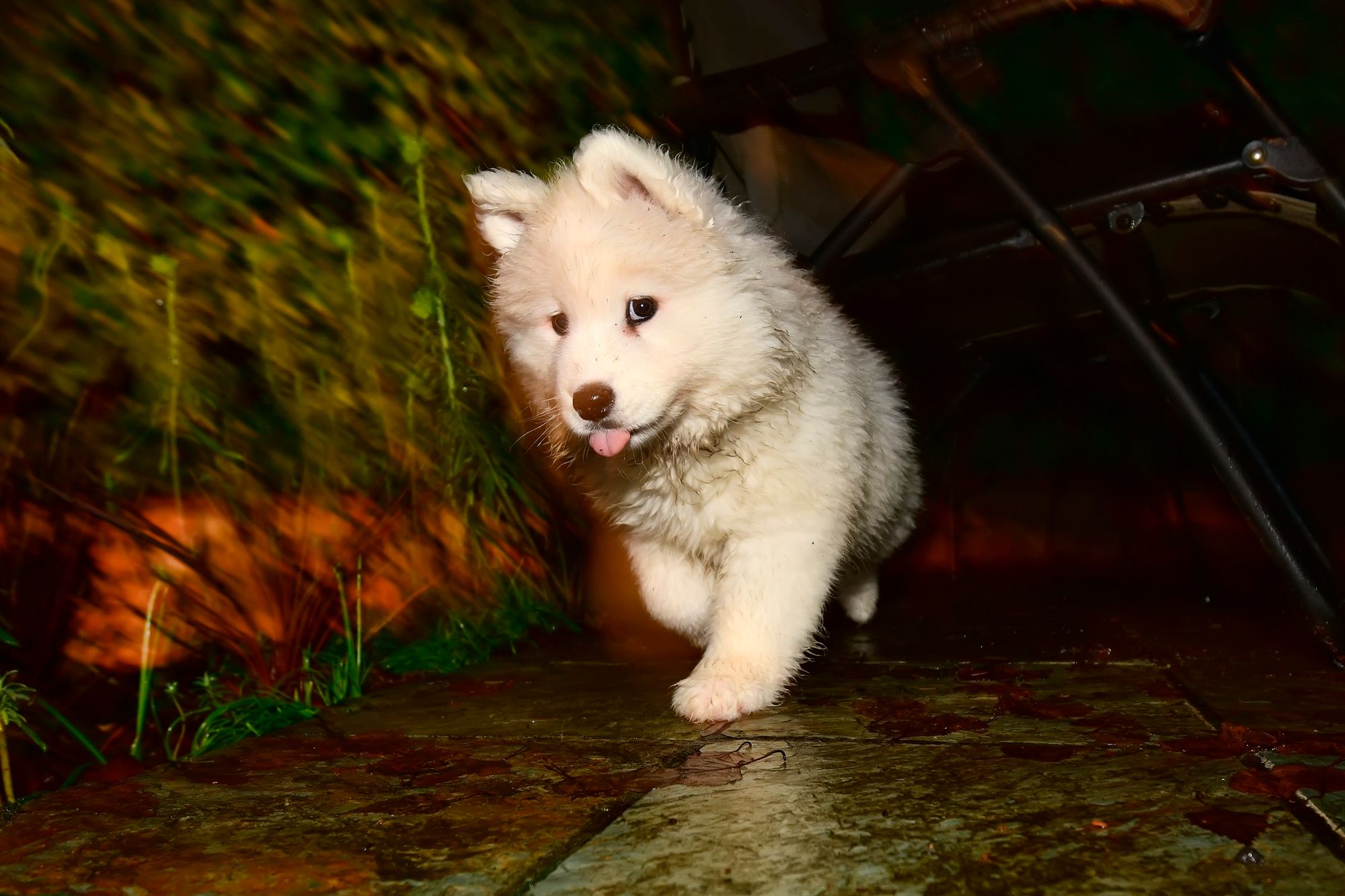 We've become a three-dog family! We picked up Nancy the Samoyed on January 29, 2020, and this post covers a few of the details of how and why we got her, including photos of her first days with us.
Deciding to get a Puppy
In October 2019, I drove to Montana with Jamie and Alice to visit our friends Aaron, Noodles, and Levon.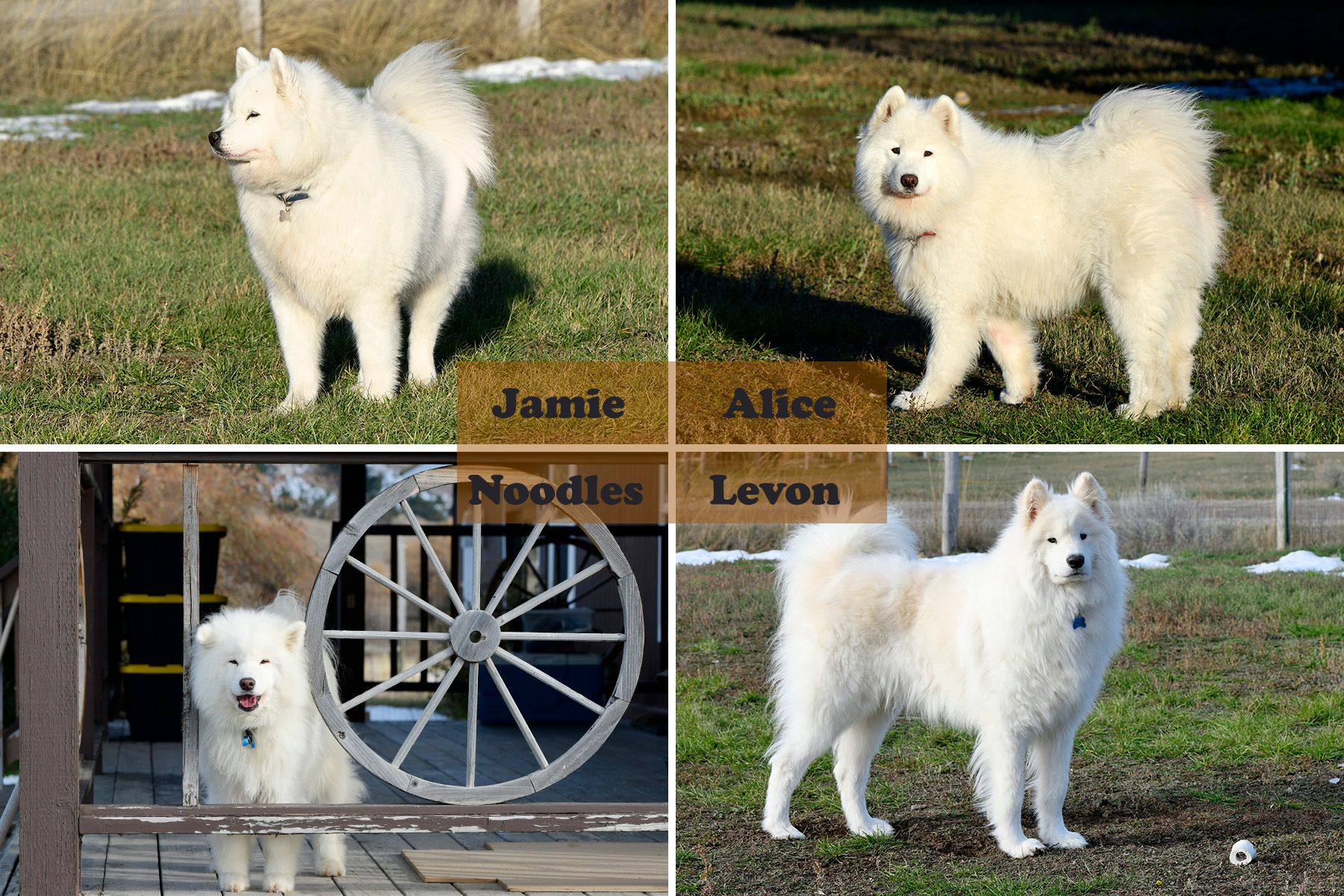 Jamie and Alice are less than a year apart at ages 10 and 9, but Noodles is 14 and Levon is 7, so Aaron had been thinking of getting another puppy to keep Levon company after Noodles is gone. Samoyeds rarely go much over 15 years.
Late one night, we discussed how social and pack-oriented Samoyeds are, and the fact our dogs are all getting older. Samoyeds are happiest when they have other Samoyeds around, and for years our dogs have all had at least one other Samoyed in their lives. After a second bottle of wine, the solution was clear: we needed to find a breeder with two Samoyed pups available.
I checked with Karin McClain at Summerhill Samoyeds (where Jamie and Alice were born), and she had a litter coming up in late November. A few weeks later we got word that five pups had been born on November 24, 2019: 3 females and 2 males.
Making Selections
On Sunday, January 19, Megan and I drove from Seattle up to Langley, BC to pick our pups out of the litter. We consulted with Aaron via text and phone to help him choose from afar.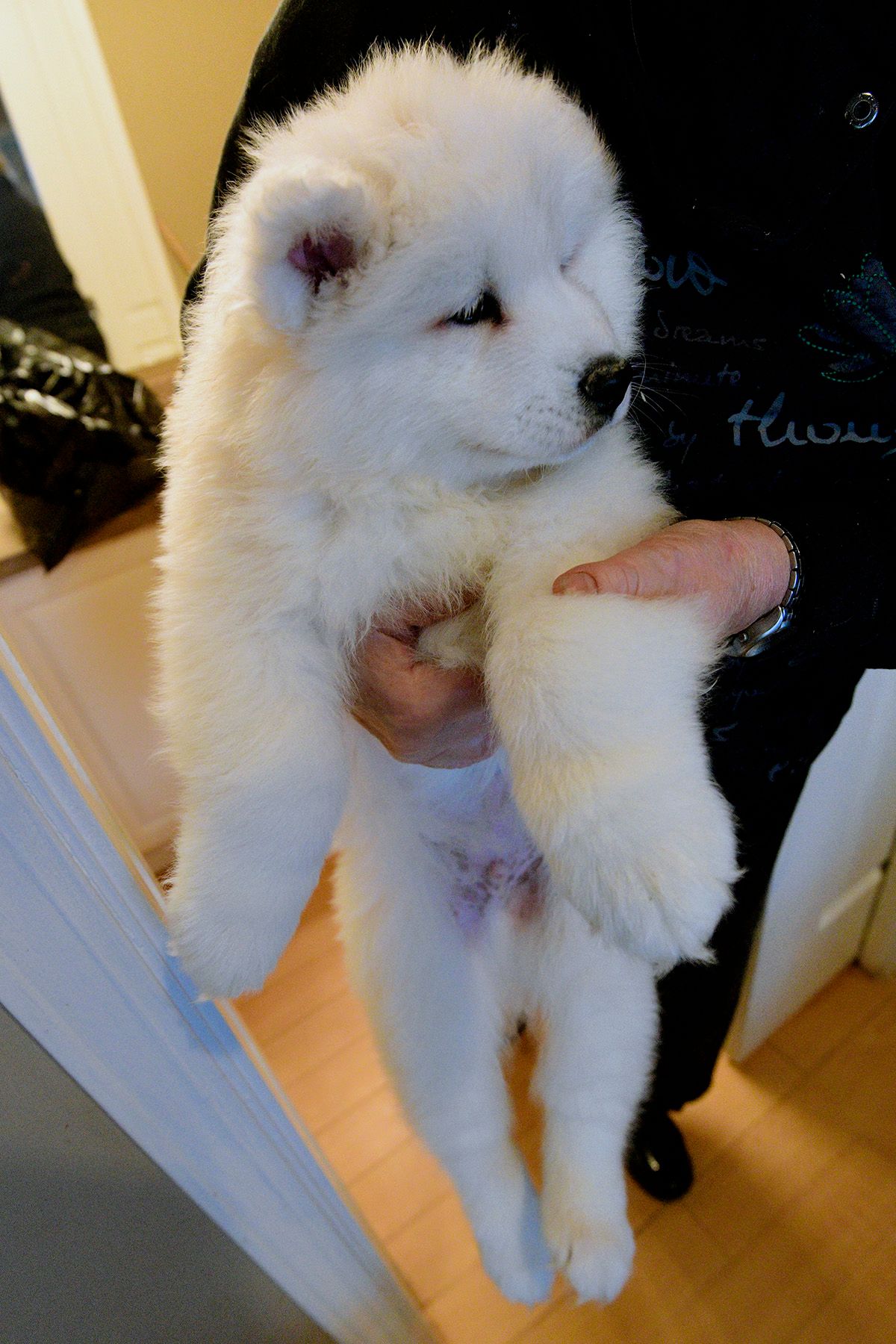 There were three females to choose from, and we knew that another person was ahead of us in line and wanted a female. So we had to select two pups – a first choice, and a backup second choice that we'd get if the other person took our first choice.
For our first choice, we used the same process we used with Jamie and Alice: we selected the pup that seemed to choose us, the one that ran straight toward us immediately and jumped up on Megan's leg. As with Jamie and Alice, this  happened to be the smallest pup in the litter.
For our second choice, we selected the other small female. Karin put colored yarn around their necks to mark our selections: pink for our first choice, and orange for the second choice.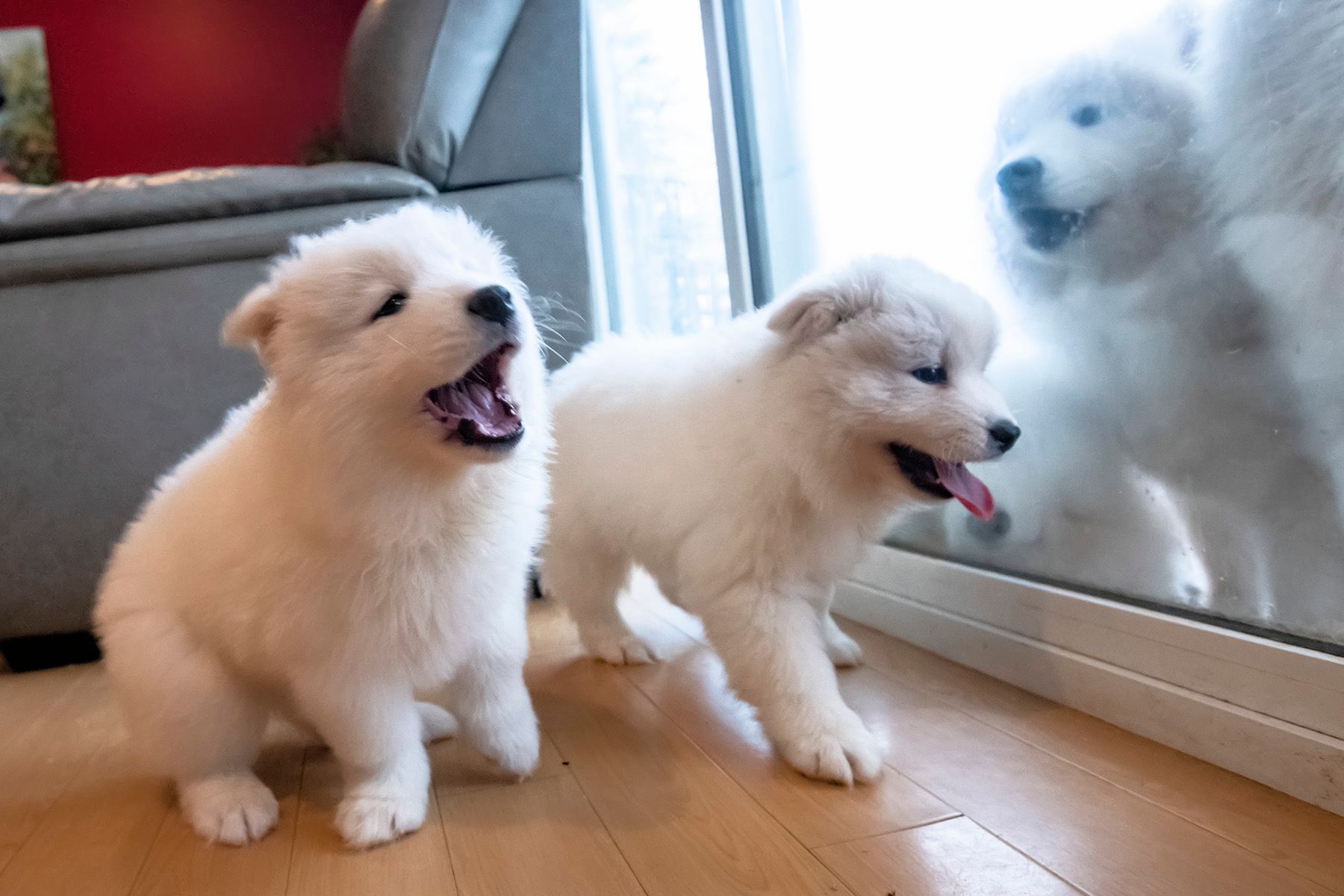 Picking up the Puppies
Finally the big day arrived to go pick up the puppies. We drove back to Summerhill on the morning of Wednesday 1/29, and were pleased to learn that we had our first choice, the pup that Karin referred to as "the hellion" of the litter. A high energy outgoing girl, just like our Alice.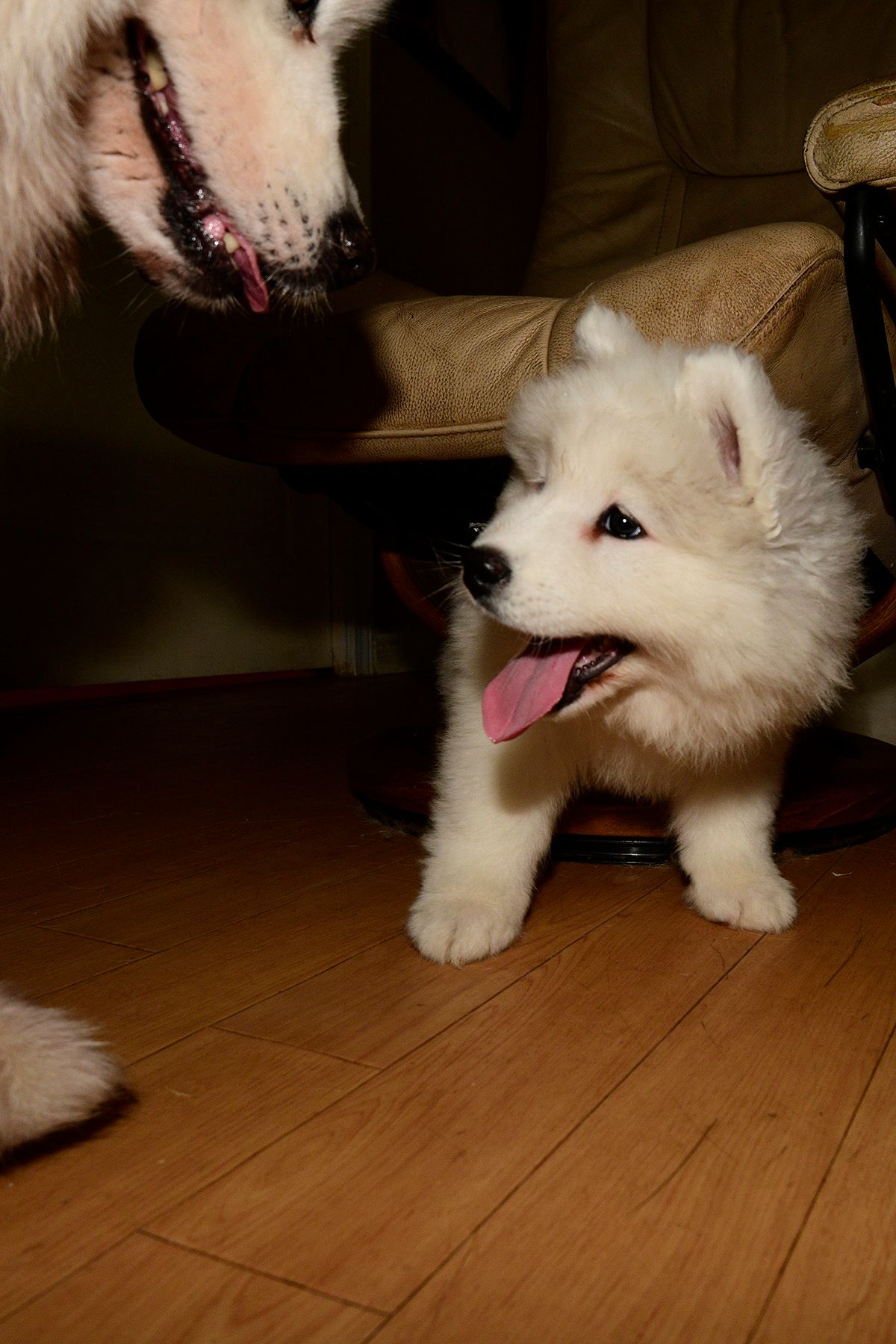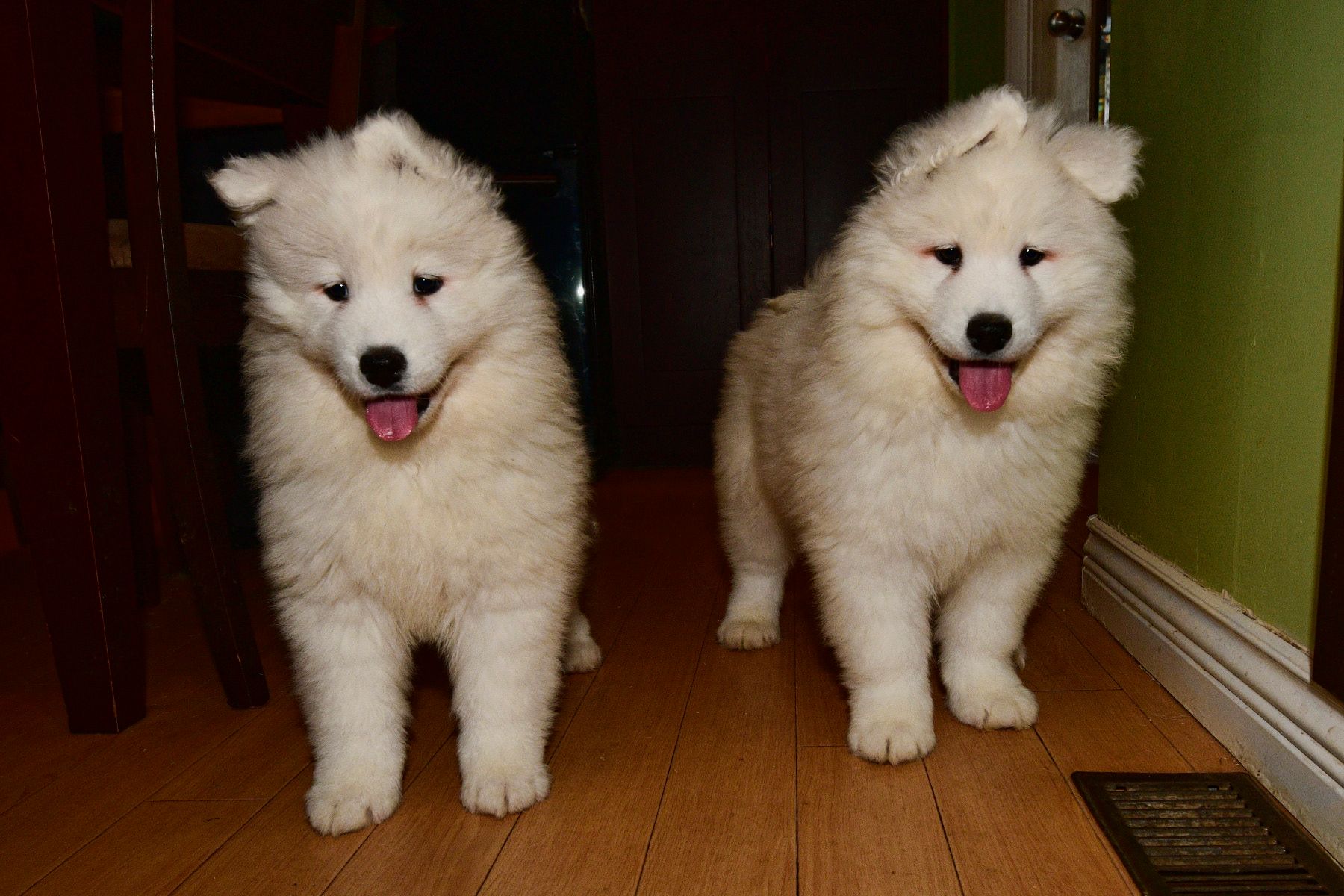 Another fun detail of the day was that Jamie's mother Chicklet was there. She's 13 years old and lives in Victoria now, but her owner Samantha brought her over to meet up with us. Thanks, Samantha!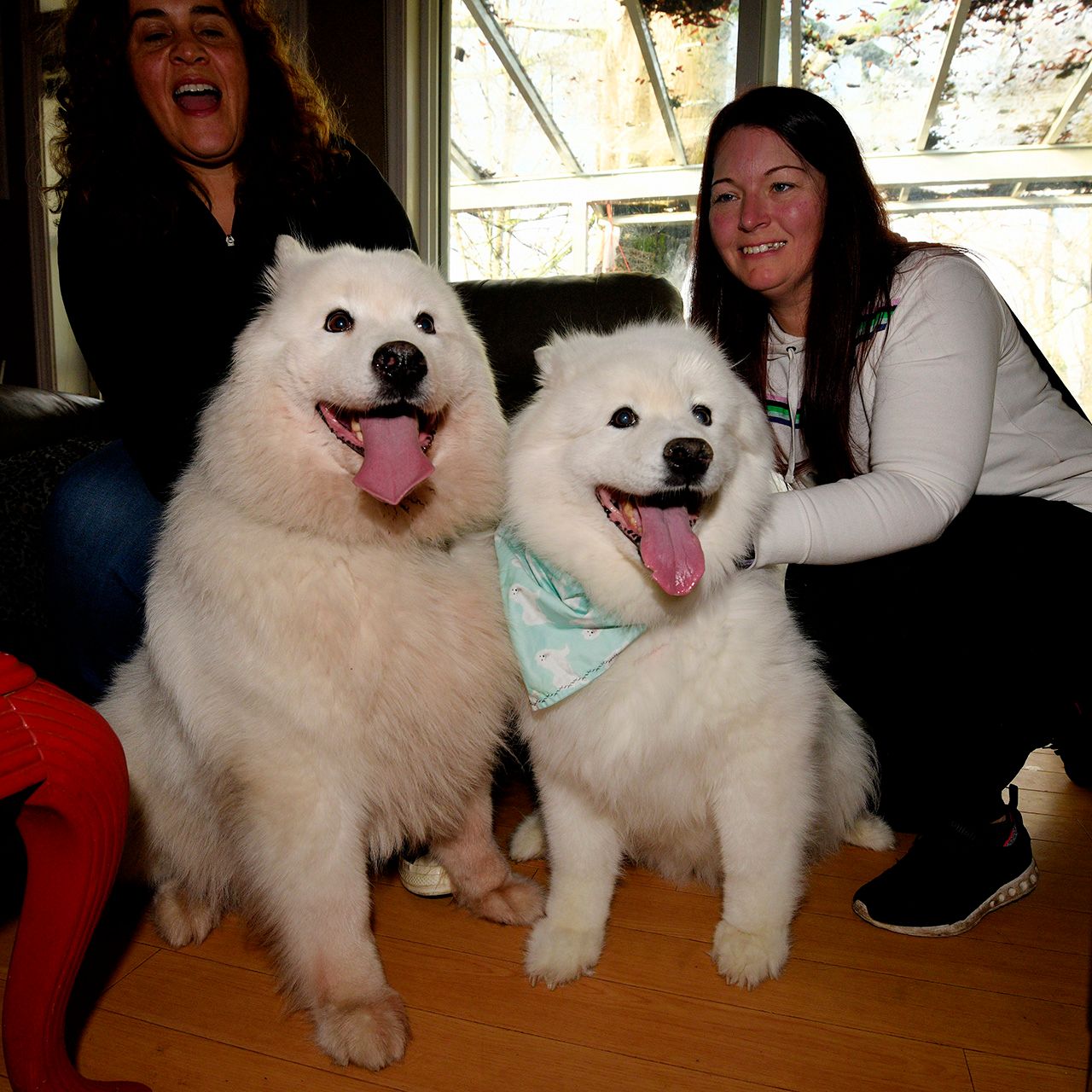 We drove Nancy and Strummer back to Seattle, with all five of us in the truck. Alice sat in the front with me, and Jamie sat in the back with Megan and the pups. Jamie tried to warn Nancy to not walk on him, but she was fearless despite his best attempts at intimidation.
We were impressed at how well Nancy and Strummer handled their first road trip. They were in the back seat for three hours, across the border and all the way to our home in Seattle, and never complained.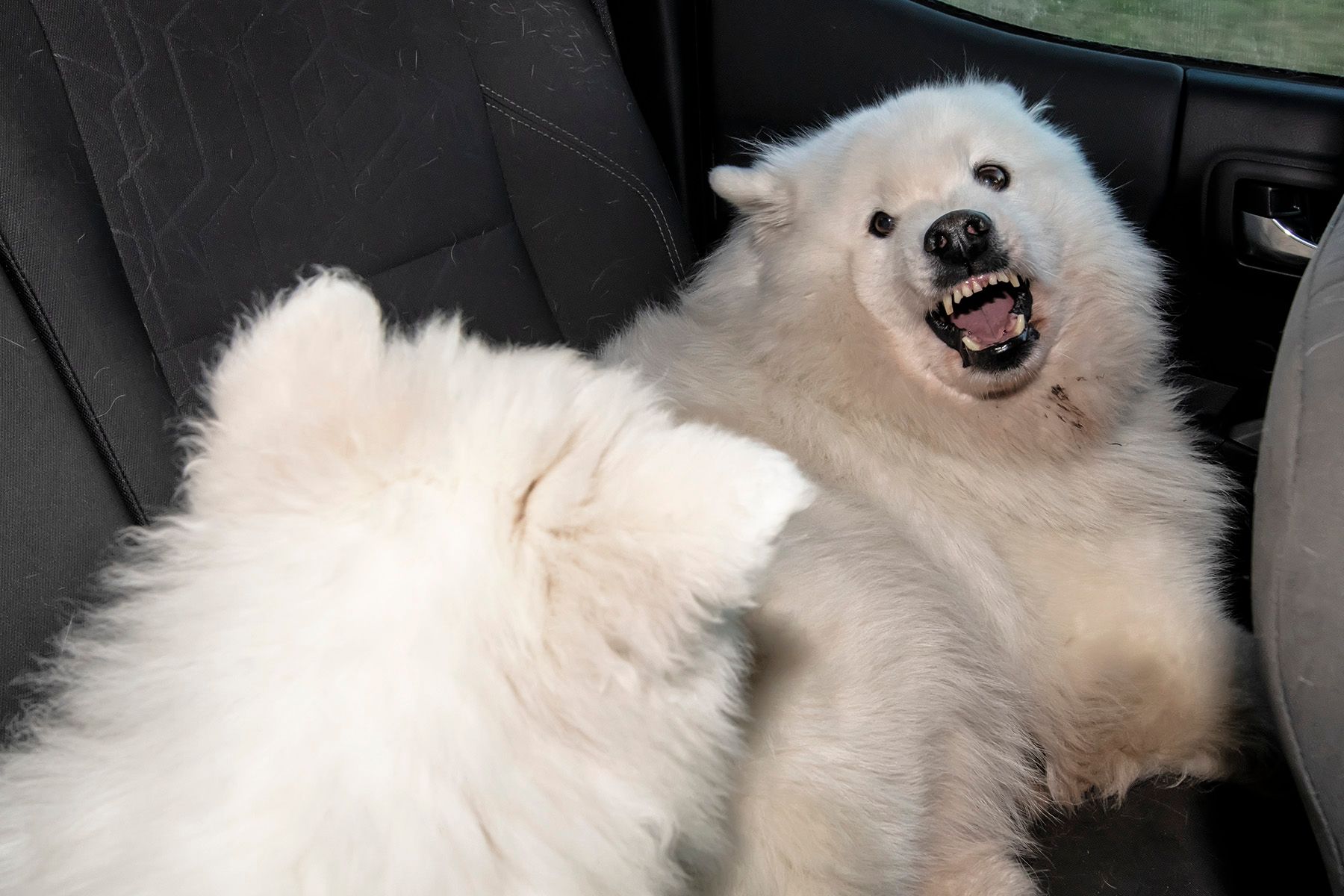 At our house, we fed the pups and then they played in the yard for a while.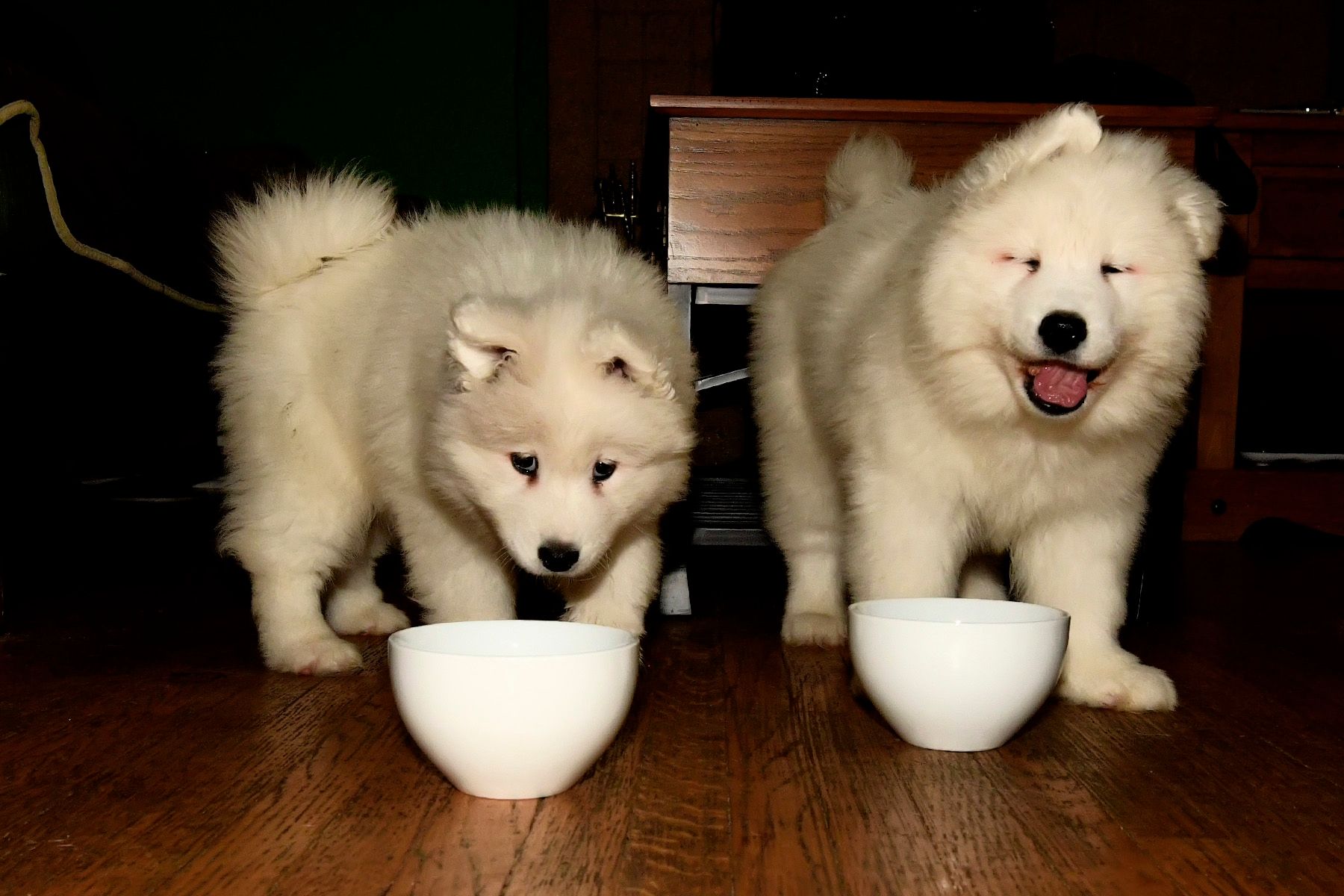 The featured photo at the top of this post is also from that first evening at home, and below is a group shot that our friend Cody took for us.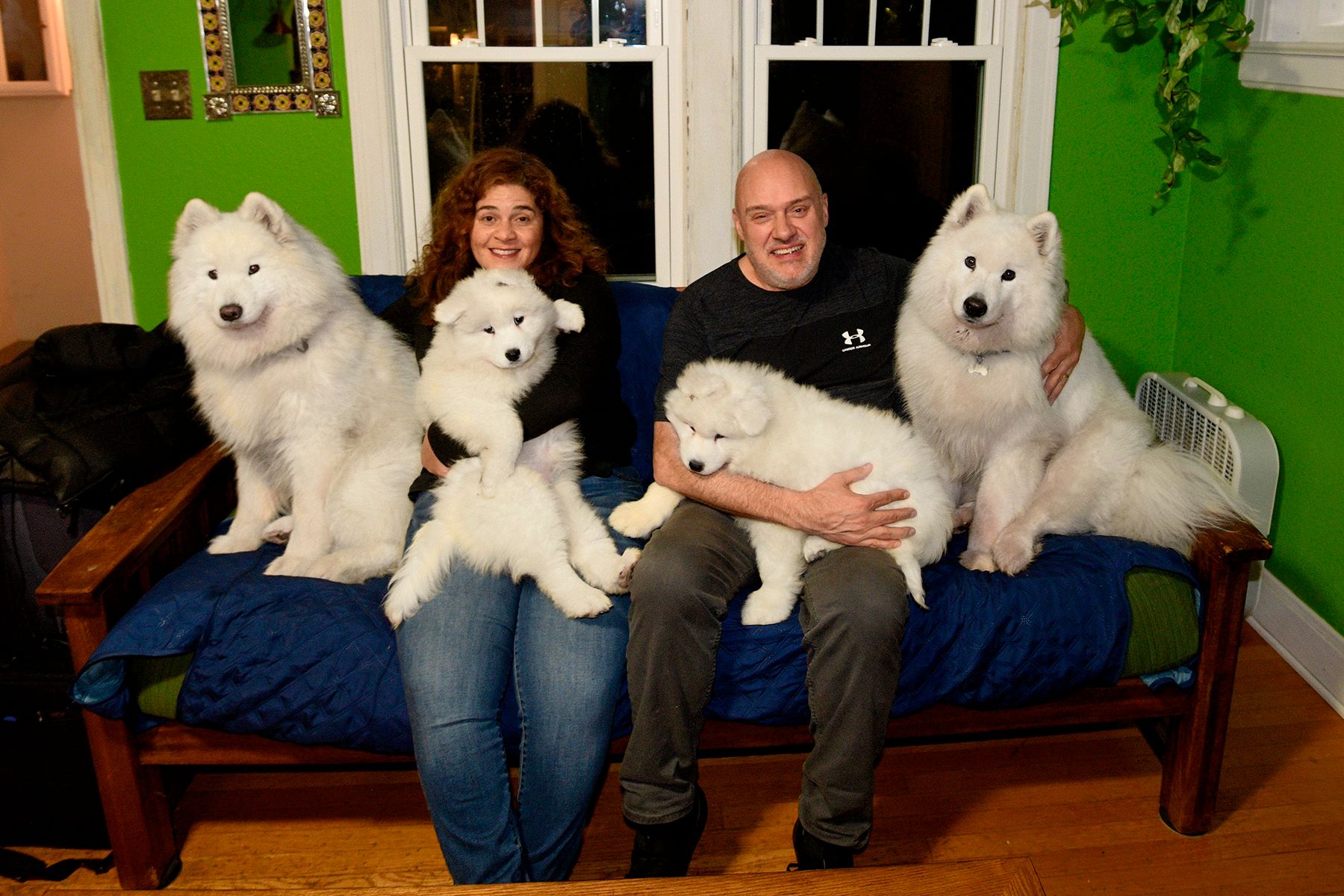 The pups went to sleep in a crate in our bedroom around 1:00, but at 3:15 they woke up and started barking. We took them outside for a while and fed them a little raw chicken (they're both on raw diets, like Jamie and Alice), and then they slept in our bed the rest of the night.
Road Trip with Strummer
It was fun to have both pups at our house for a night, and then the next morning we headed out on the 700-mile drive to Strummer's new home in Montana.
This time, we had Alice sit in the back seat with them and Jamie rode shotgun up front. This seemed to work better. Alice found them a bit much at times, but she was more cheerful about it than Jamie had been.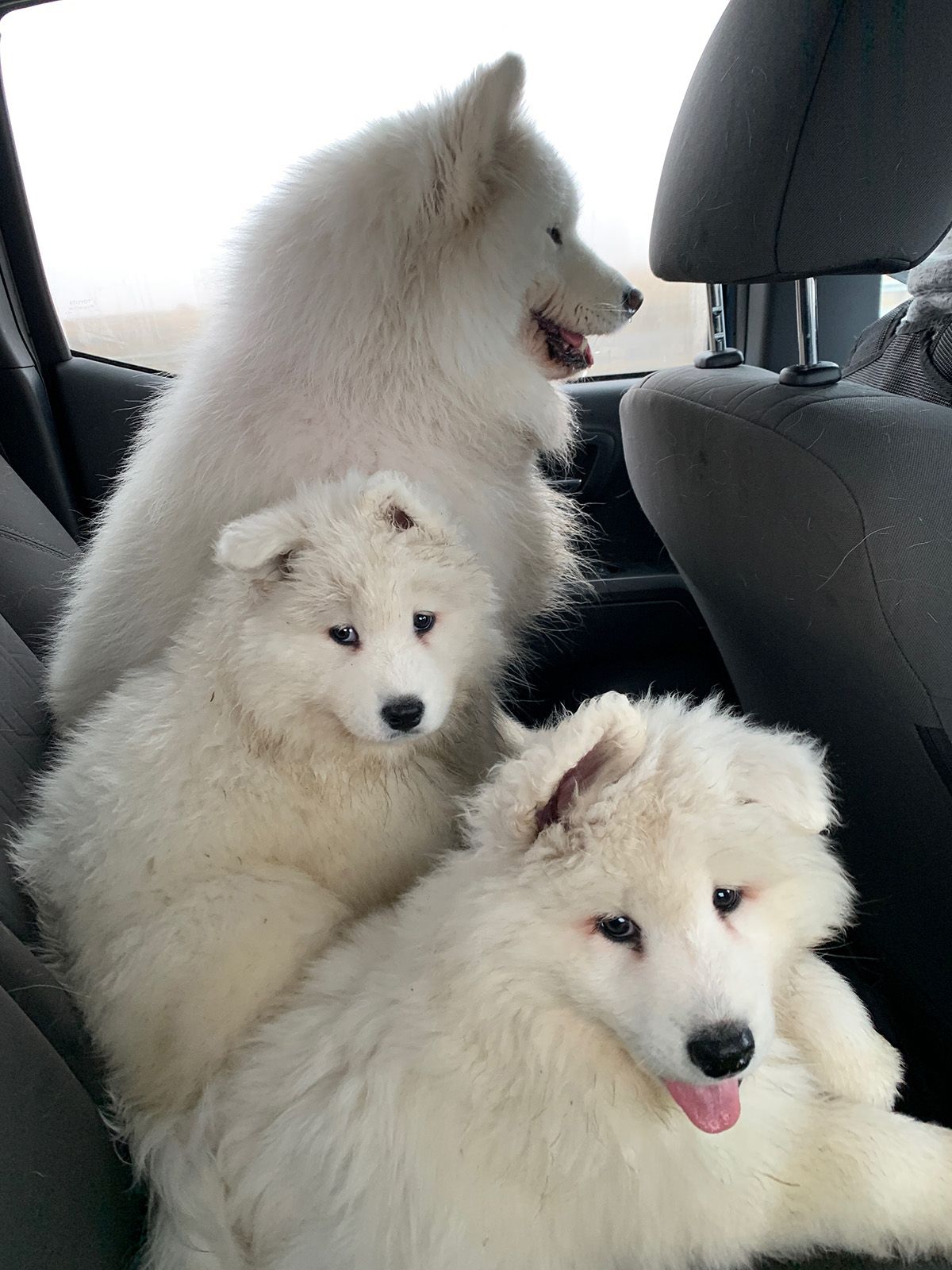 The pups were once again great in the truck, and after a couple of hours we rewarded them with some off-leash time near the Old Vantage Highway east of Vantage, Washington. This is a favorite spot for Jamie and Alice when we travel east in the winter. (It has rattlesnakes, so isn't an option in warm weather.)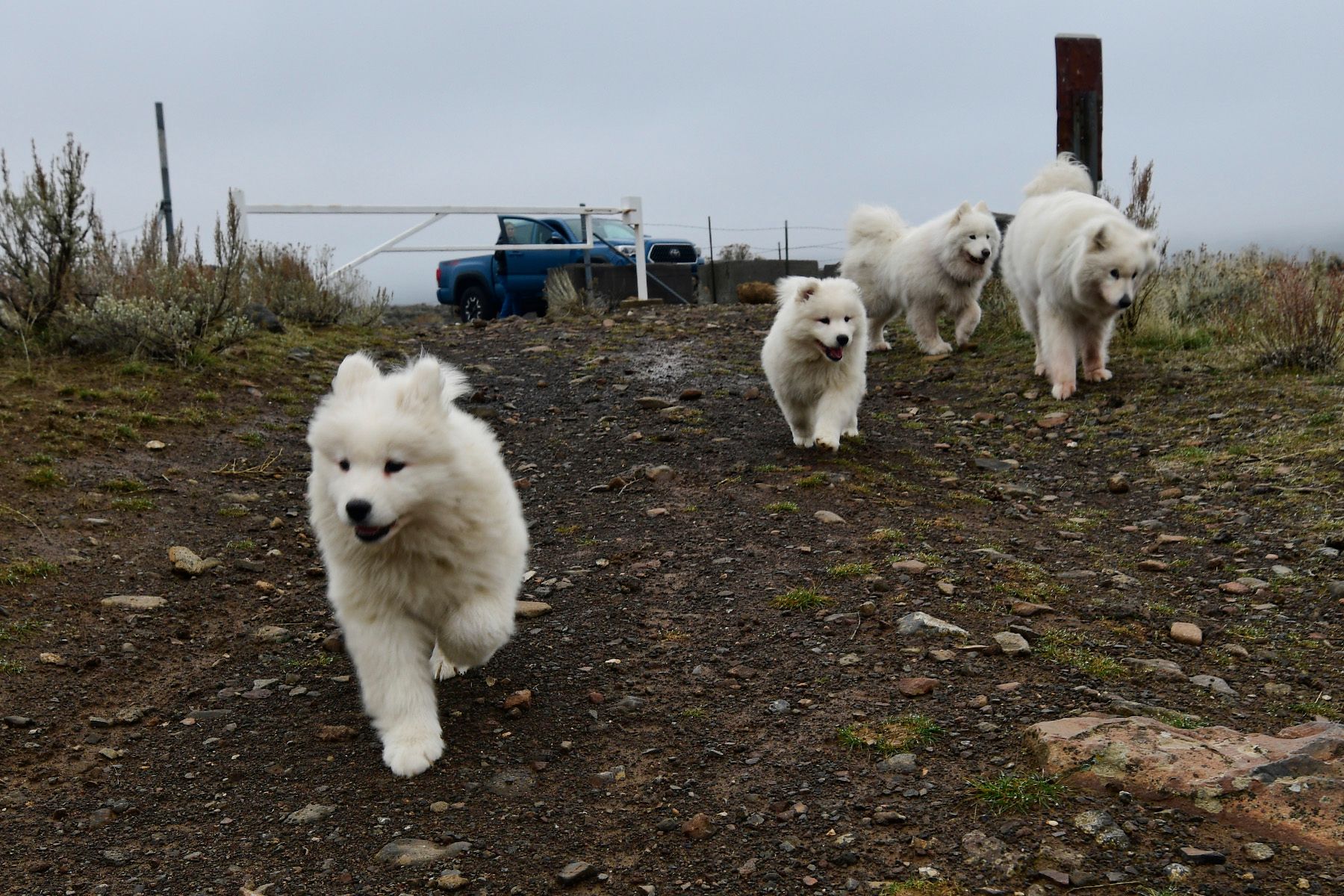 We stopped to walk the dogs five times throughout the day, and the pups were great the whole time. Jamie and Alice are very comfortable with road trips (they've been to most of the continental US and ride in the truck almost every day), and I think this helped the pups know that everything was fine and not to worry about this new experience. Between the Vancouver trip and this trip, Nancy and Strummer rode nearly 900 miles in their first two days with us, and never complained or had an accident of any kind.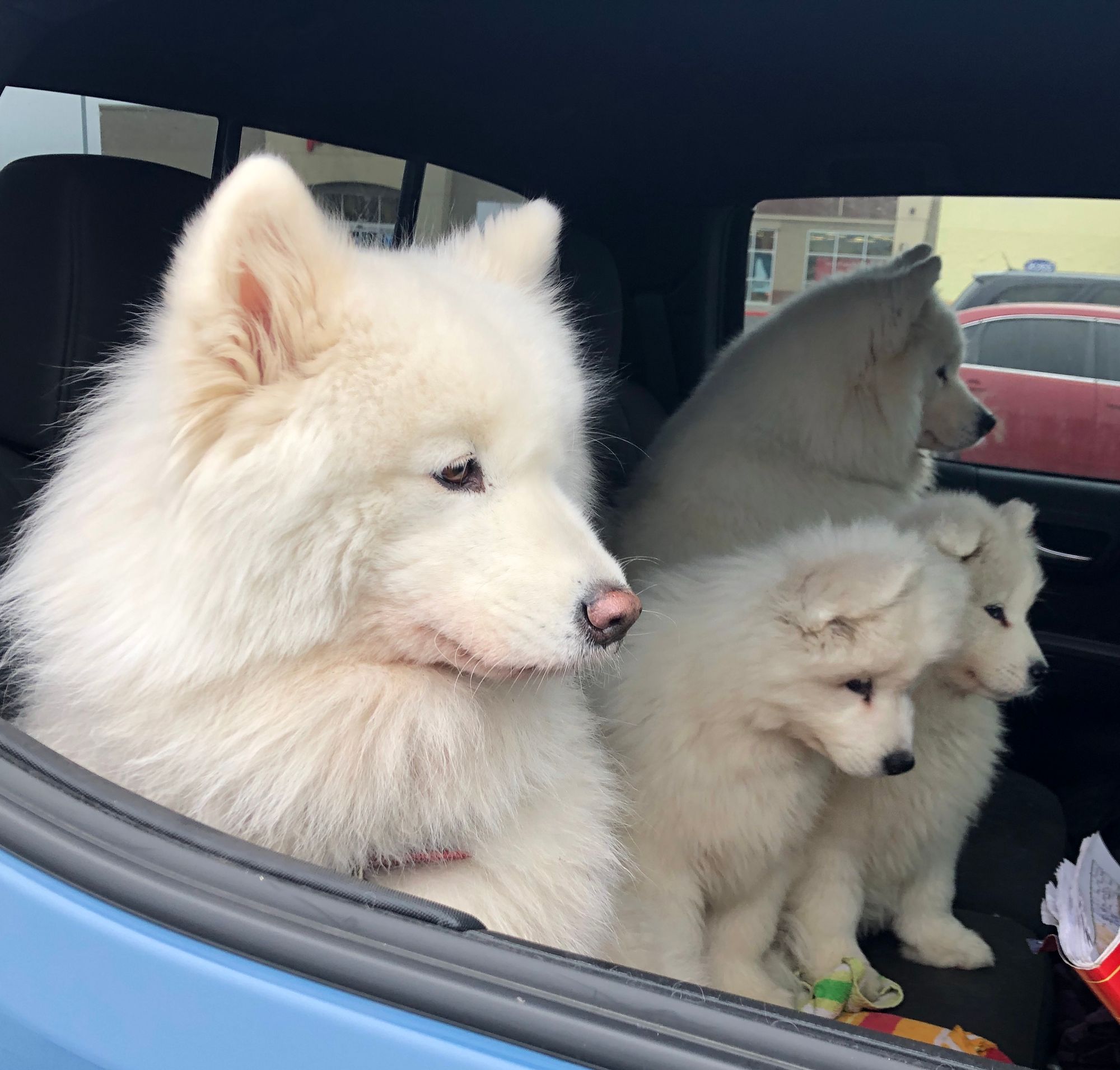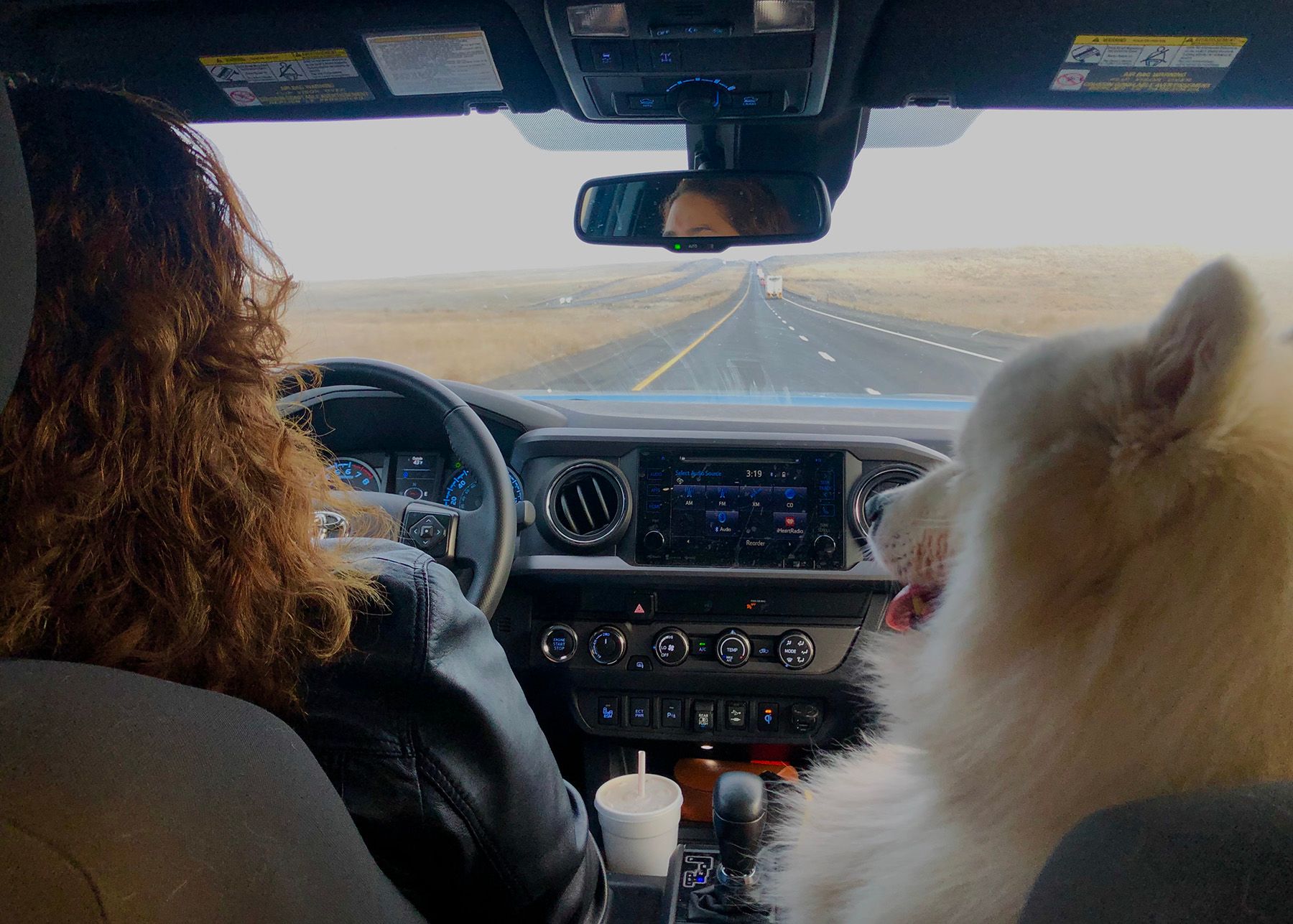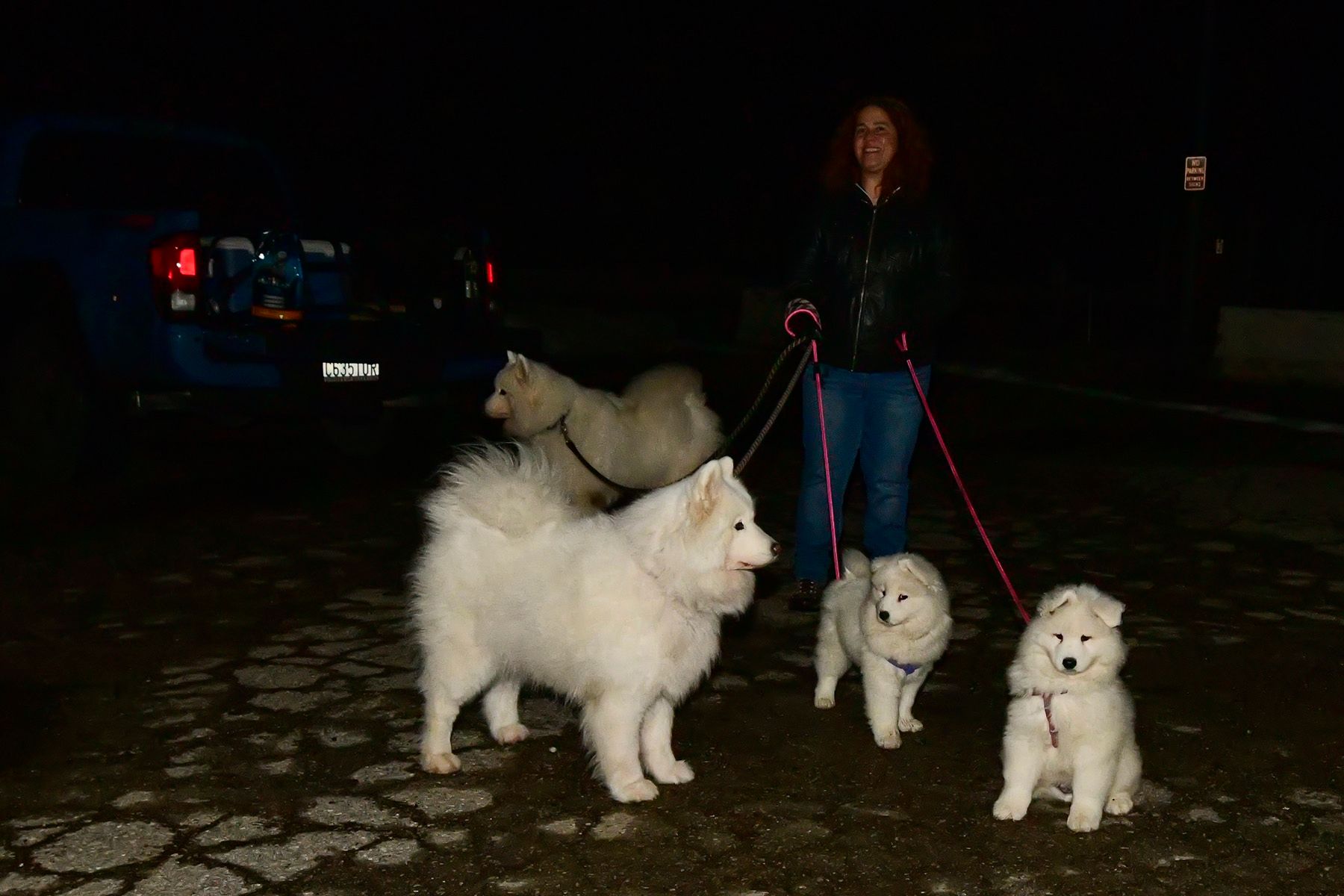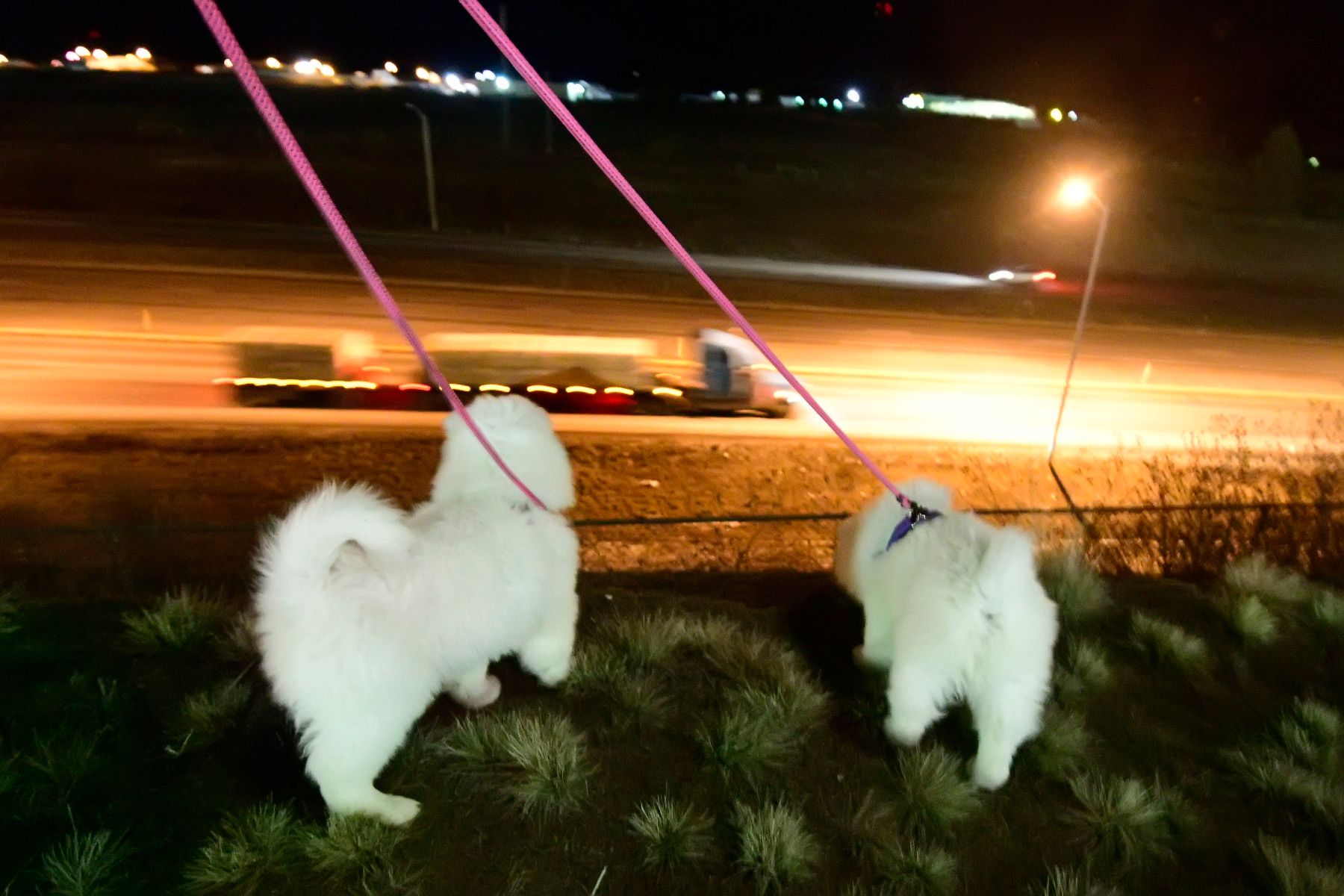 We arrived at Aaron's place north of Three Forks just before 1:00AM. The dogs were all thrilled to have a pack of six, and played indoors for a while and then out in the yard for hours. Nancy and Strummer loved being outdoors in the freezing weather, but after 5:00AM we carried them in and put them in a crate in the living room, where they slept surrounded by their new friends.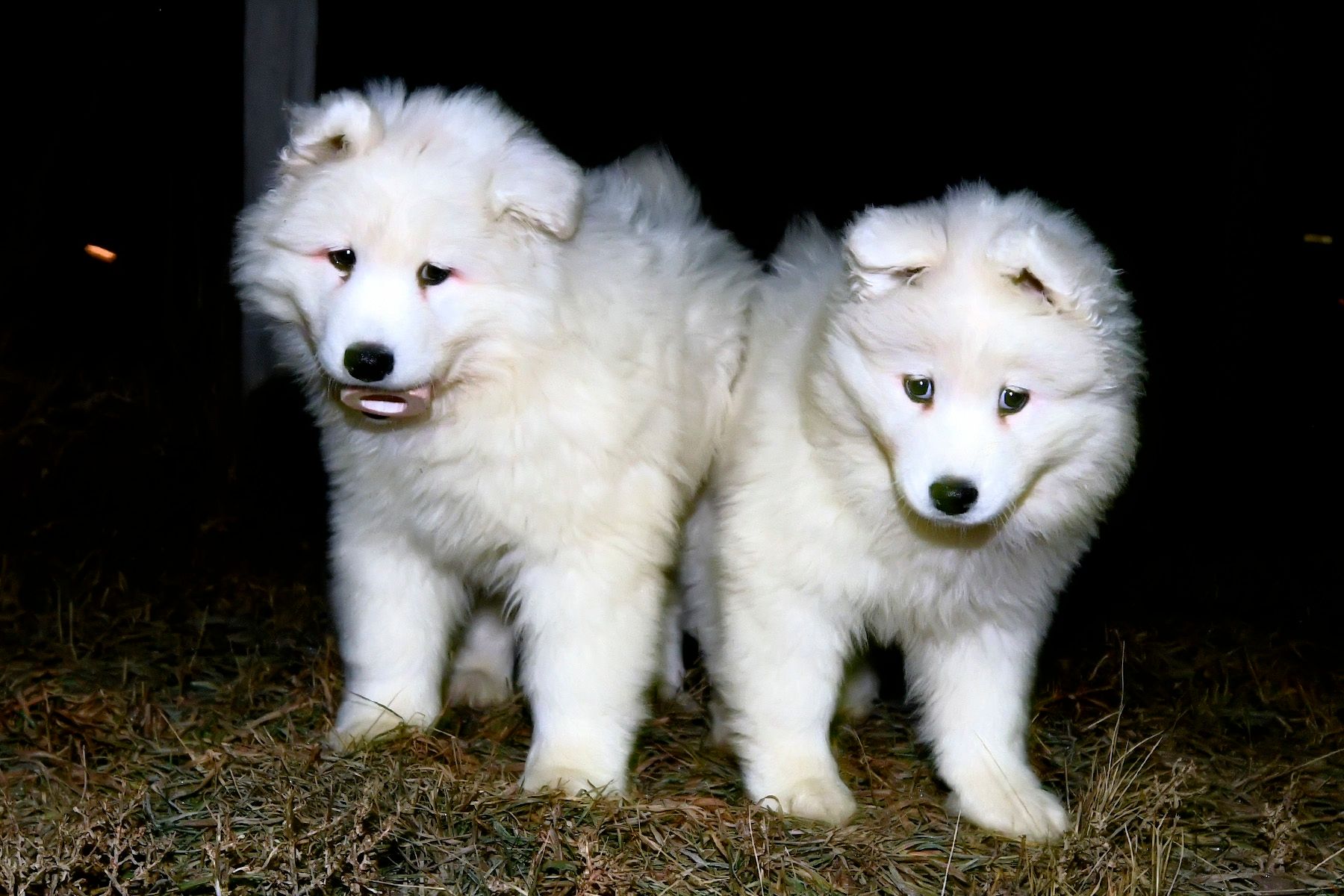 A Weekend in Montana
We spent two full days in Montana, and Nancy and Strummer seemed to grow bigger and and more mature by the hour.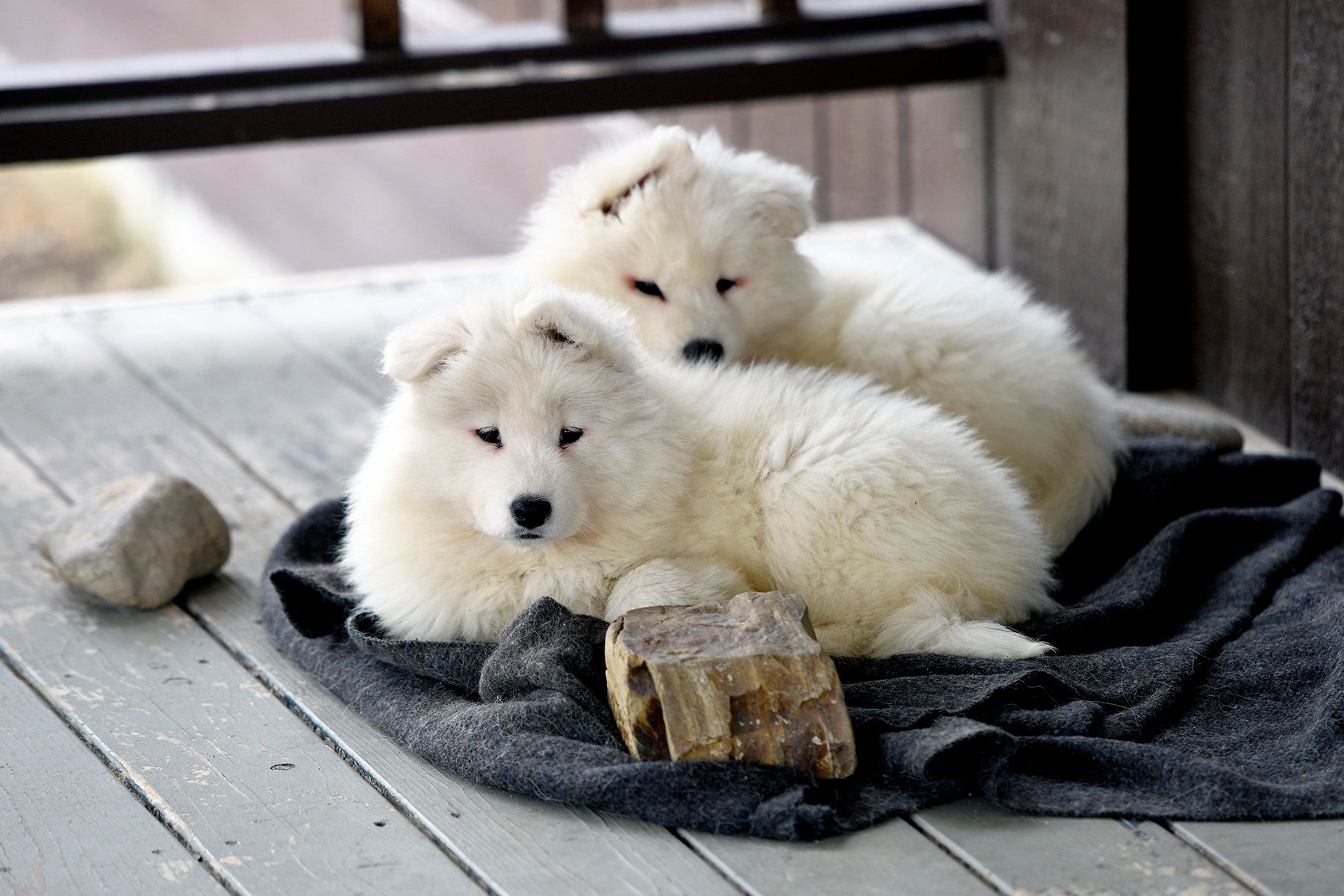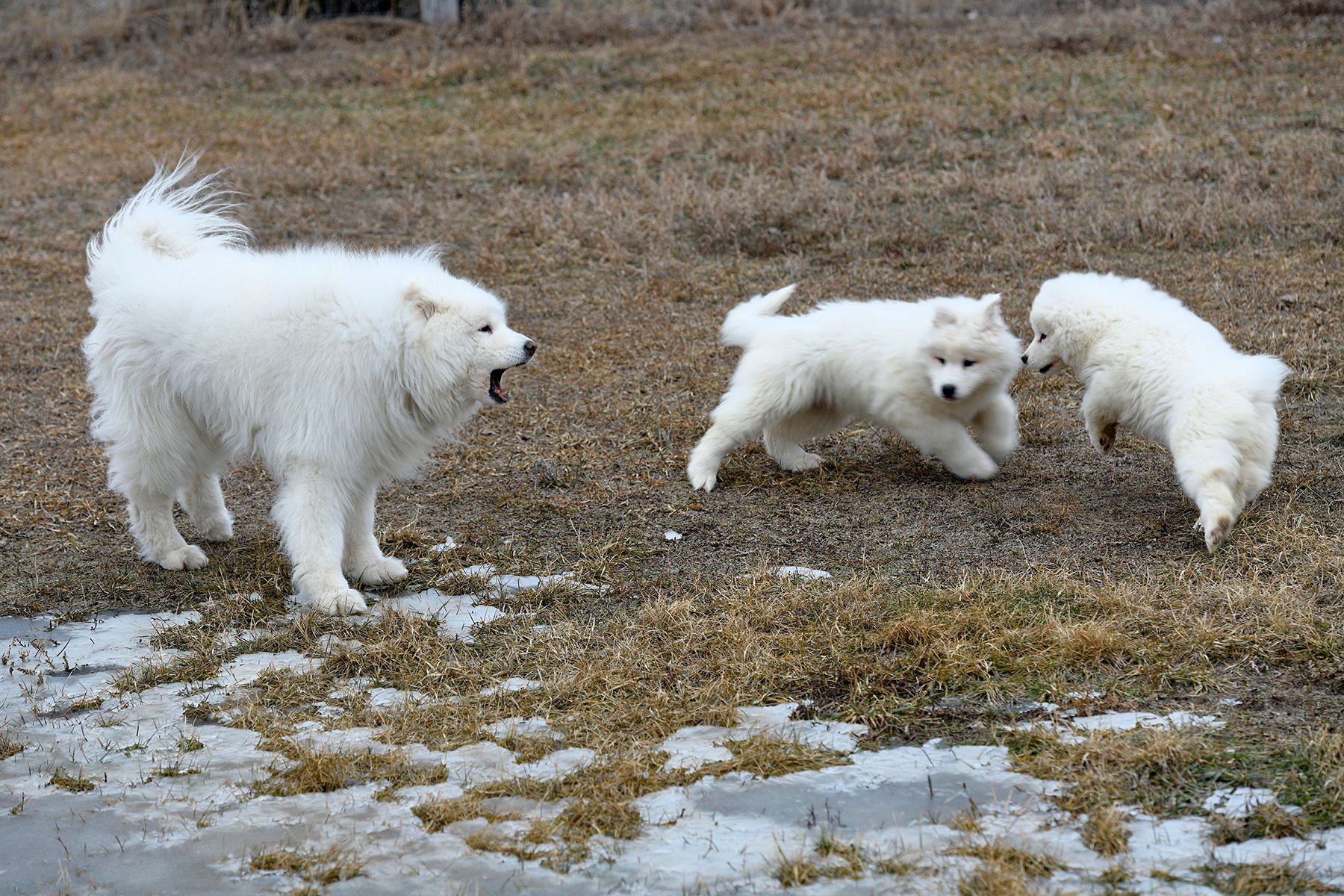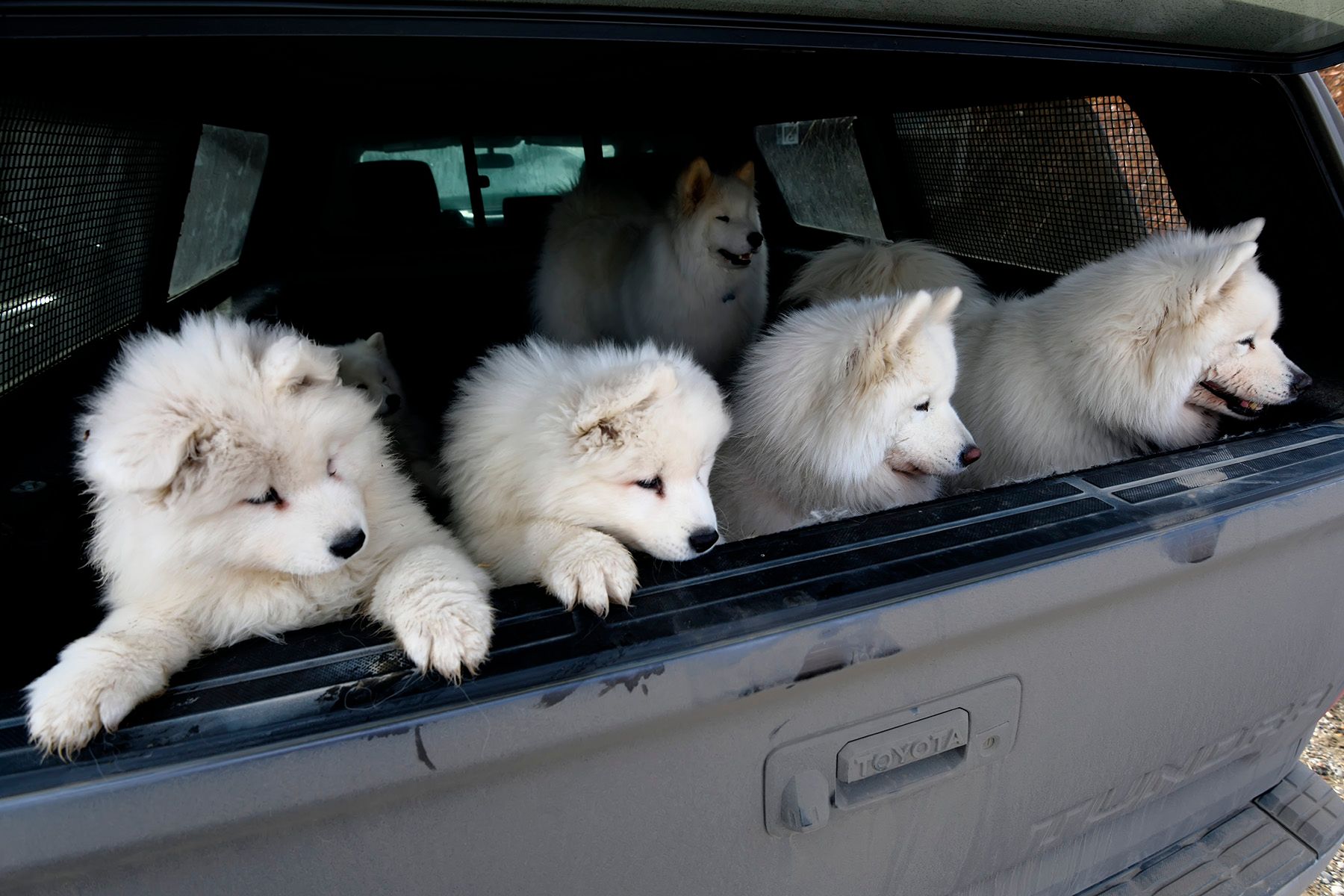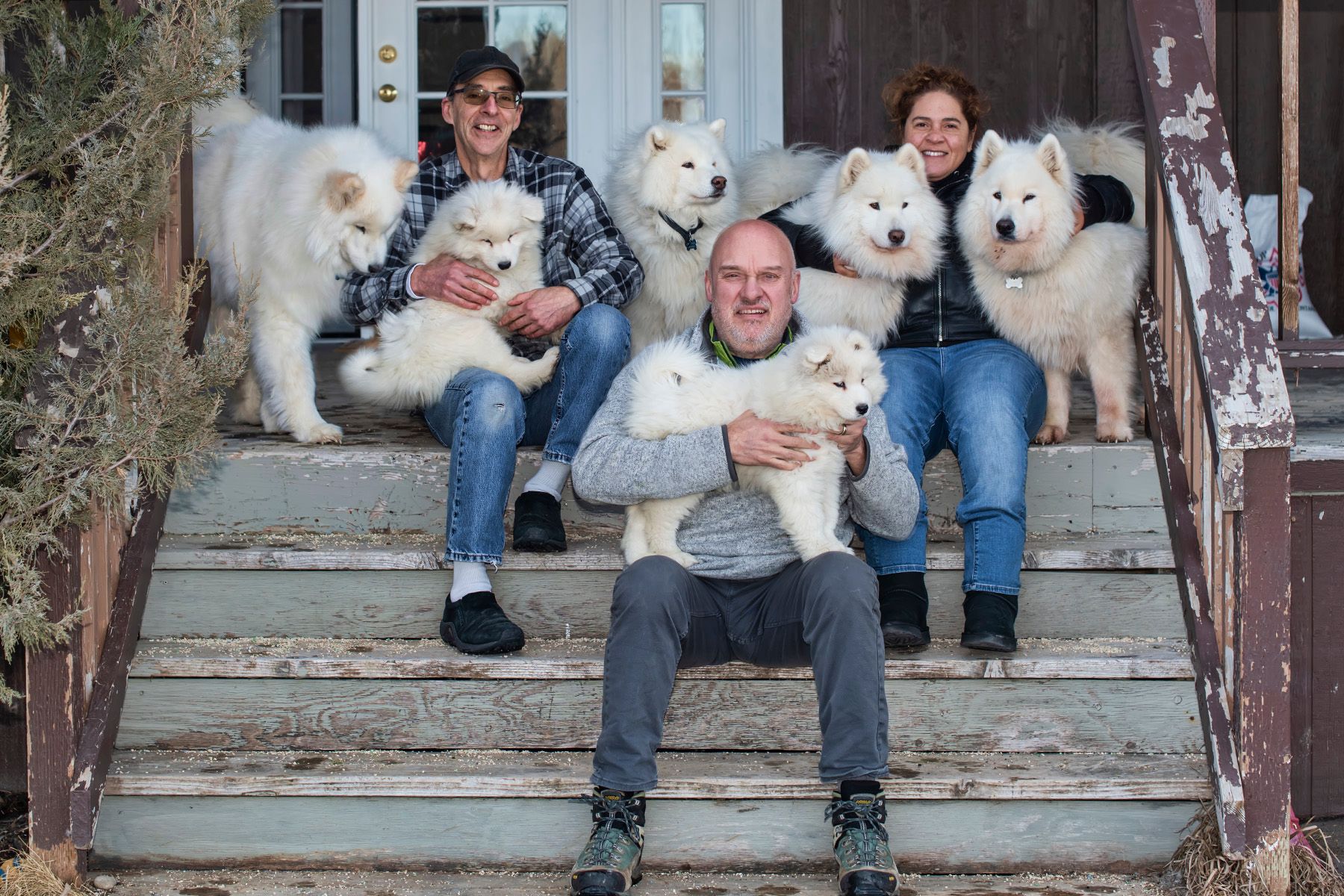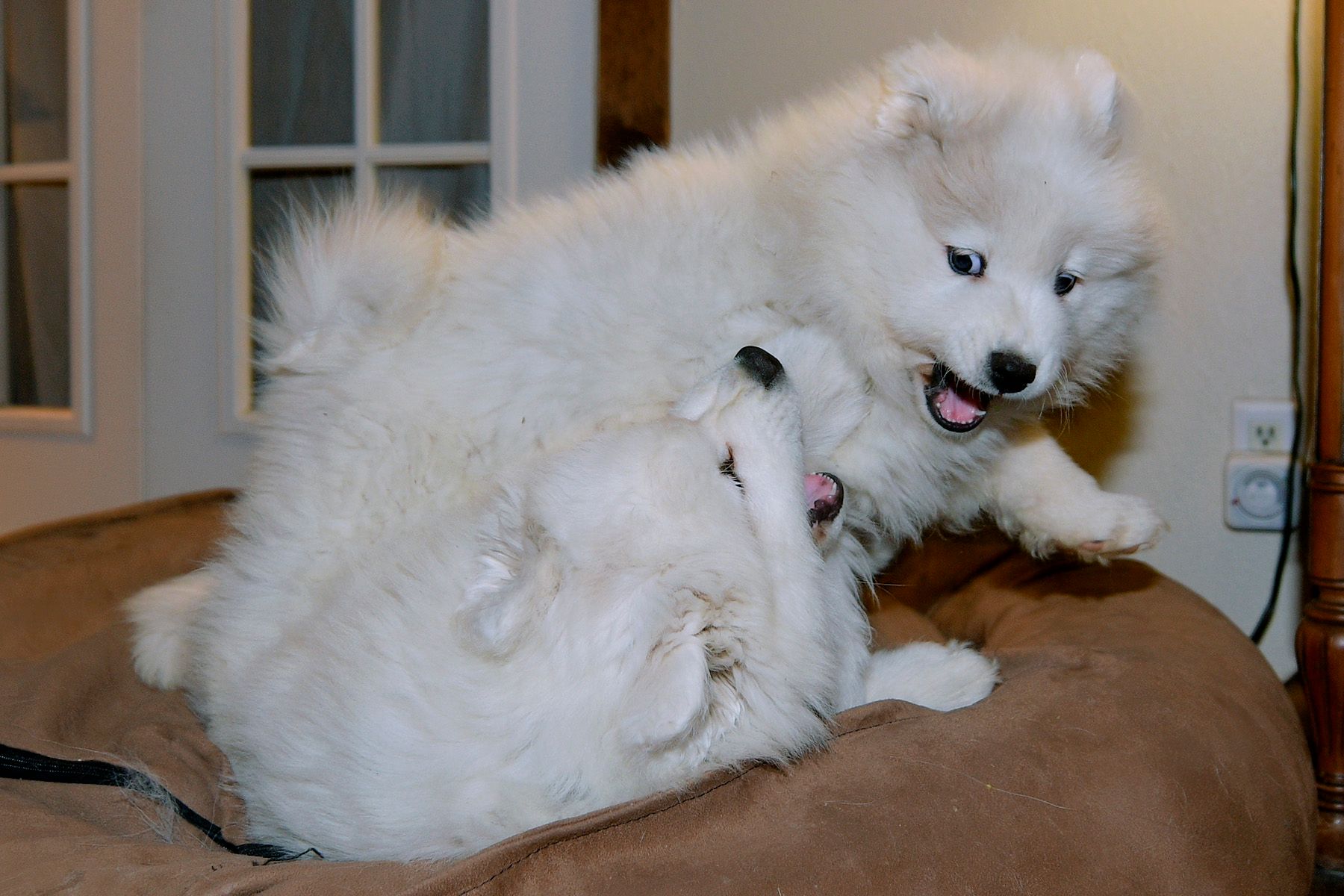 On their final night together, Nancy and Strummer played late into the night, and then we put them in the crate together, where they had slept the prior two nights. But they barked incessantly, so we decided to let them spend the night outside with Noodles and Levon watching over them. When Alice realized what was going on, she insisted on going outside as well; only Jamie stayed inside with the humans.
We got a few hours sleep, and when we got up in the morning they were curled up together on the porch, with Alice laying nearby and Noodles and Levon laying out in the yard like sentries.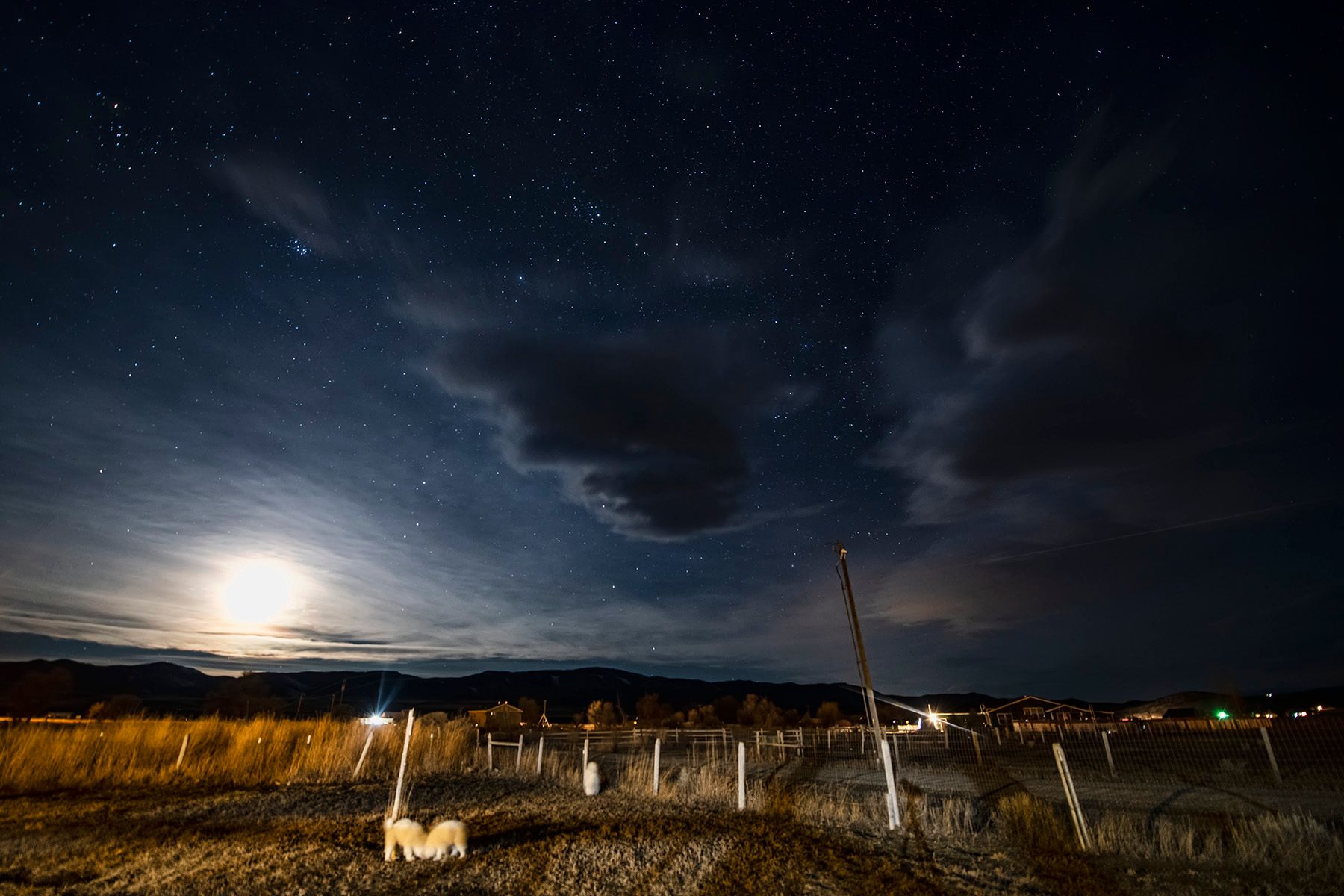 Nancy Goes Home
On Sunday, we left early to drive Nancy home to Seattle. We were concerned about how the pups would react to being separated, but they were both great all day, playing and bonding with their new packs.